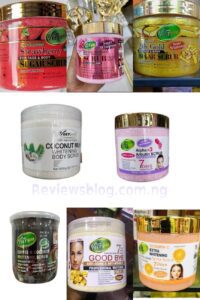 Veet Gold Scrub is a good whitening scrub that removes dead skin cells from the body. It gently exfoliate and naturally lighten your skin without drying it out. It makes your complexion radiant.
It is a yummy sugar scrub that leaves your skin smooth and supple and it comes in different flavors. You can choose any formula of your choice because all of them exfoliate the skin.
This scrub is specially formulated to get rid of cellulite, stretch marks, wrinkles, green veins, spots, and pimples. It is created from pure natural sugar and almond. It also helps to tone your skin and give it a beautiful appearance.
A colleague of mine at work has this glowing skin. I am a lady but I stare at her always with admiration. After she caught me staring keenly at her, she asked me if something was wrong and I said no, so she went on with her business.
On this particular day, I summon the courage to talk to her. Immediately after I got to her desk; I brought up irrelevant topic that led to us gisting. I then complimented her skin and she smiled.
I asked her what product she was using and she told me she uses veet gold products but the one that helped her most was the scrub. She asked me to try it and I will see the luminous result.
I bought the scrub the next time I went out and I discovered she was right. After just seven days of using this scrub, the difference was clear and I fell in love with my own fresh skin complexion.
I highly recommend veet gold scrub to those who skincare products hardly work on them. This scrub would exfoliate your body and create room for penetration, so that your skin can start absorbing nutrient from all the things you apply.
You can also try gluta c scrub, kuu spa scrub, oriflame scrub, or asantee scrub as alternative.
Veet Gold Scrub Ingredients:
Arabic Coffee Seed Oil, Grape Seed Oil, Jojoba Oil, Olive Oil, Almond Oil, Shea Butter, Glycerin, Polysorbate 20, Fragaria Chiloensis (Strawberry) Fruit Extract, Peach Fruit Extract, Papaya Fruit Extract, CL 15985, and Sweet Almond Oil.
Veet Gold Scrub Side Effects:
It doesn't have any side effects.
Types Of Veet Gold Scrub:
It has different types but the same functions.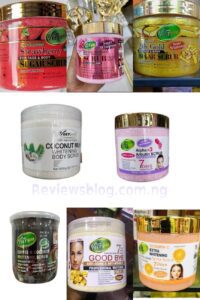 1: 24K gold sugar scrub
2: Alphax3 arbutin scrub
3: Strawberry sugar scrub
4: Goodbye anti-aging scrub
5: Anti dark knuckles & skin corrector
6: Coconut milk whitening body scrub
7: Coffee & coconut whitening scrub
8: Vitamin c extra whitening super scrub
Veet Gold Benefits:
1: It clears dark spots
2: It removes skin dullness
3: It lightens the complexion
4: It removes uneven skin tone
Is Veet Gold a Bleaching Scrub?
No, it is not a bleaching scrub.
Does Veet Gold Contain Hydroquinone?
No, it doesn't contain hydroquinone.
How Good Is Veet Gold Scrub:
It is a very good scrub that moisturises the skin while removing dead skin cells from your body.
How To Use Veet Gold Scrub:
Gently massage the scrub on your wet skin in circular strokes after a shower for 5 minutes and then rinse your body very well with clean water.
Veet Gold Scrub Price In Nigeria:
It cost N4000 in markets and cosmetics shops.
Where To Buy Veet Gold:
You can buy the original scrub online from trusted vendors either on Jumia or on Konga.
Watch & Subscribe To Our YouTube Channel: