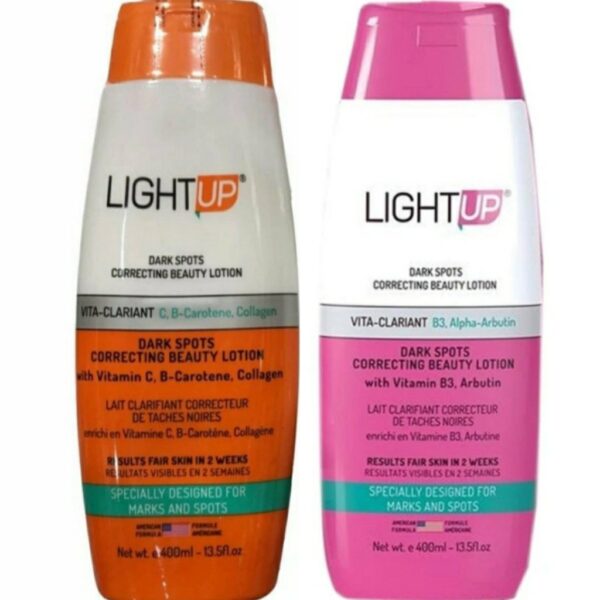 Light Up Lotion is a moisturizing and dark spots corrector cream. It is super effective in getting rid of skin problems such as stubborn dark spots, wrinkles, blemishes, acne, scars, pimples, freckles, discoloration and hyperpigmentation.
This lotion tones the skin and gives it a clearer and radiant look. It works on your natural skin complexion by nourishing and clarifying it. It is designed for light skin people. If used by a dark skinned person, it would bleach their skin complexion and give them discoloration.
Light up lotion comes in two different types; The orange container and the pink container. The orange container light up lotion contains B-carotene, collagen and vitamin C while the pink container contains alpha arbutin and vitamin B3.
Light up is an active lightening lotion and results are expected to be visible within the first seven to fourteen days. This lotion is good with no side effects on some people's skin while on the other hand, it is not good on some other people's skin.
I highly recommend light up lotion to fair people who wants to glow their skin and make their complexion look radiant. It really works in lightening the skin and getting rid of dark spots.
You can also try caro fresh lotion, gold beauty lotion or elixir light cream as an alternative.
Light Up Cream Ingredients;
Collagen, Aloe Vera, Vitamin C, Vitamin B3, Glycerin, Alpha Arbutin, Aqua, Paraffinum Liquidum, AHA, Beta Carotene, Stearyl Alcohol, Sodium Lauryl Sulfate and Fragrance.
Light Up Lotion Side Effects;
1: It bleaches dark complexion
2: It gives some people dark feet
3: It gives some people skin rashes
4: It gives some people brown nails
5: It gives some people dark palms
6: It gives some people skin redness
7: It gives some people dark knees
8: It gives some people dark elbows
9: It gives some people dark knuckles
10: It causes skin sensitivity under the sun
Light Up Cream Benefits;
1: It fades out scars
2: It clears discoloration
3: It gets rid of dark spots
4: It clears acne and pimples
5: It makes the skin clearer and radiant
Is Light Up Lotion a Bleaching Cream?
No, it is not a bleaching cream.
Does Light Up Cream Contain Hydroquinone?
No, it doesn't contain hydroquinone.
How To Know Original Light Up Cream:
The original light up cream is properly sealed from top to bottom. Before you can open it, you would have to tear off the tightly sealed proof.
How Good Is Light Up Cream:
It is a really good cream that would clear your skin and make your complexion very beautiful.
How To Use Light Up Cream:
Pump out some amount of the lotion on your palm and gently massage it all over your body until it is completely absorbed into your skin.
Light Up Lotion Price In Nigeria:
It cost N1700 in markets and cosmetics shops.
Light Up Lotion Price In Ghana:
It cost GH₵60 in markets and cosmetics shops.
Where To Buy Light Up Cream:
You can buy the original cream online from trusted vendors either on Jumia or on Konga.
Watch & Subscribe To Our YouTube Channel: