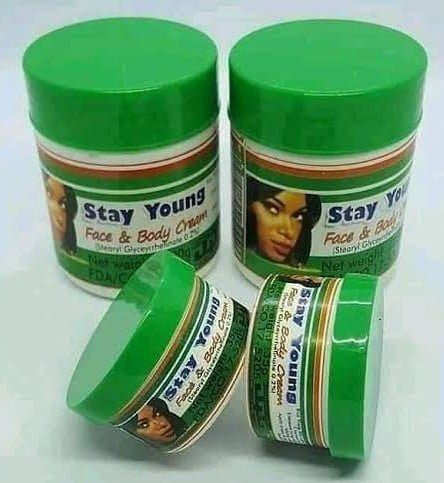 Stay Young Face And Body Cream is the bomb when it comes to getting rid of all stubborn dark spots, blemishes, melasma, sunburns, freckles, white patches, blackheads and all discoloration.
This cream also clears pigmentation, softens, smoothens, lightens and brightens your skin. It is formulated with very powerful ingredients that nourishes, refreshes and moisturises your body.
I have been hearing about this stay young face cream for long and most of the comments are positive. So after my last breakout, I decided to try it and find out for myself if it is truly worth it.
So I went to my trusted customer shop who sells original cosmetic products and he told me all his own has finished and that they are alot of fake ones in the market which people are ignorant of.
I thanked him after he told me how to identify the fake one and I left his shop in search of the original stay young facial cream. I roamed about the whole market and was seeing only the fake.
I later gave up on the search and went to do my other shopping. When I got home from market, I collected the container of the cream from my neighbor who first told me about how good it is.
I looked at it carefully and discovered that my customer was right all along because it looked different than the ones I saw at the market. So I asked her where she bought this particular one.
She told me the name of the supermarket and I went there the next day, only to be told that it has finished and they would be restocking it by month end which is still very far from that day.
That was when I realized that my village people are currently on my case because I wasted my transport only to come and buy the original stay young face and body cream and nothing else.
I now resorted to buying it online, something I always do whenever I can't find any product am looking for at my location. It is usually expensive to shop online but it is better to get the original.
I bought the original stay young face and body cream from my favorite online store and used it on my face and this is my honest review about this cream that took alot of my time and money.
Stay young face cream lightens your skin and clears dark spots from the face and other parts of the body. It is very good for fair people but is not recommended for dark and chocolate skin.
Anyone can use it to clear their skin problems and discontinue it afterwards. Only fair people can continually use stay young as their everyday cream because it won't stop lightening the skin.
I highly recommend stay young face and body cream to anyone who wants to lighten up their complexion and also get rid of skin problems. It really works and your skin will be grateful to you.
PS: Stay young face and body cream is enemies with sun and heat. So make sure you avoid any sunlight, fire and steam when using it. Or better still, use it only at night to prevent side effects.
You can also try jra face cream, veet gold face cream or white secret face cream as alternative.
Stay Young Face Cream Ingredients:
Stearyl Glyceyrrhetinate 0.2%, Stearic Acid, Propylene Glycol, Bee Wax, Petroleum Jelly, Glycerine, Vitamin E, Cocoa Butter, Ceteary Alcohol, Citrus, Distilled Water and Fragrance.
Stay Young Face Cream Side Effects:
1: It gives some people red face
2: It gives some people pimples
3: It gives some people white patches
4: Prolonged usage causes green veins
5: Prolonged usage causes stretch marks
6: Prolonged usage causes skin thinning
7: Prolonged usage causes skin bleaching
Stay Young Face Cream Benefits:
1: It lightens the skin tone
2: It clears freckles from skin
3: It clears melasma from skin
4: It clears sunburns from skin
5: It clears blemishes from skin
6: It clears dark spots from skin
7: It clears acne scars from skin
8: It clears blackheads from skin
9: It clears dark knuckles from skin
10: It clears dark circles under eyes
Is Stay Young a Bleaching Cream?
No, it is not a bleaching cream.
Does Stay Young Cream Contain hydroquinone?
No, it doesn't contain hydroquinone.
How Good Is Stay Young Cream:
It is a good face cream that gets rid of your skin problems and also evens out your complexion.
How To Use Stay Young Cream:
Scoop some of the cream and gently massage it into your skin until it is all completely absorbed.
How To Know Original Stay Young Face Cream:
The original stay young face and body cream is made in Ghana. Any other one is an immitation.
Stay Young Face Cream Price In Nigeria:
It cost N800 in markets and cosmetics shops.
Where To Buy Stay Young Cream:
You can buy the original cream online from trusted vendors either on Jumia or on Konga.
Watch & Subscribe To Our YouTube Channel: