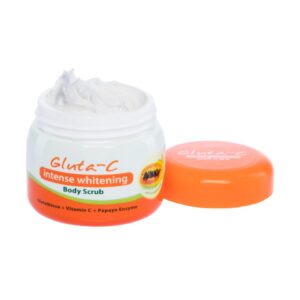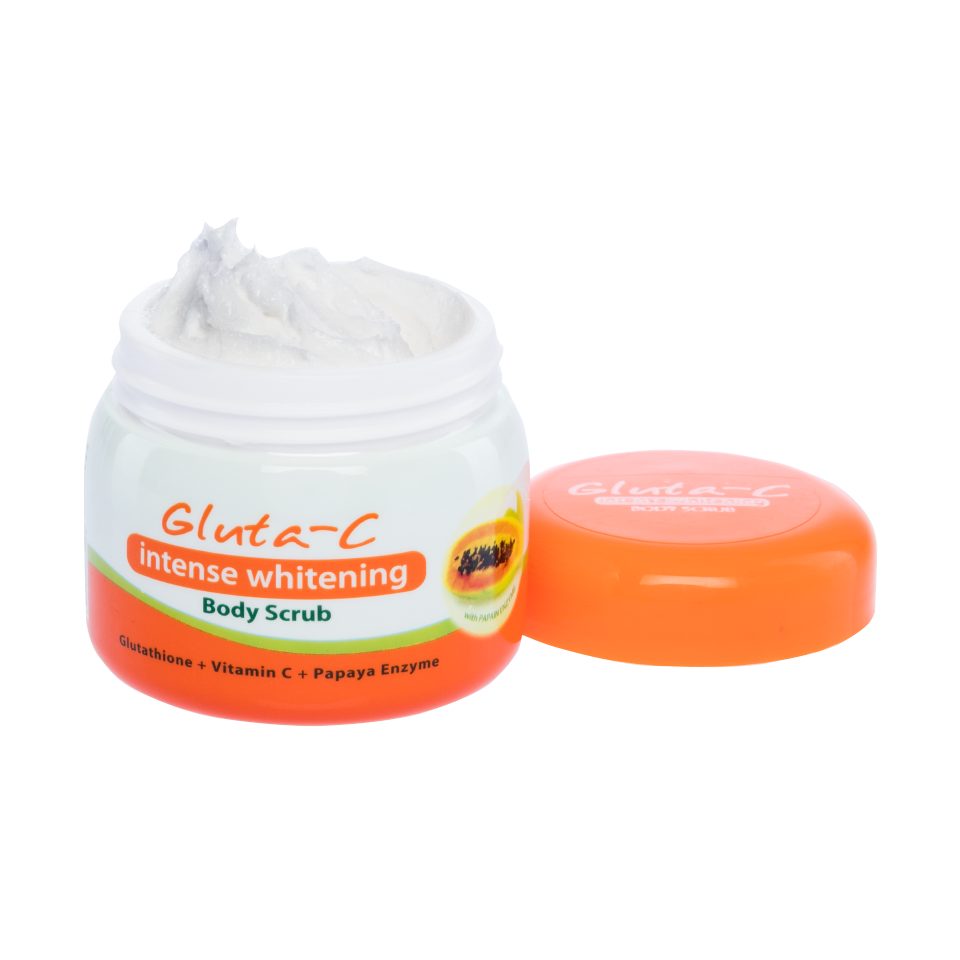 Gluta C Scrub is a mild yet efficient soap that effectively cleans, whitens, and hydrates the skin with the potent antioxidant combination of glutathione and vitamin c that deeply exfoliates.
This scrub efficiently removes dead skin cells and helps you get rid of skin blemishes. The combination of ingredients in this serum work together to make your skin healthy and glowing.
While it scrub and buff those dead skin cells away, it helps get rid of any skin pollutant and blemishes. Every time you wash your face, you'll notice the change as your complexion becomes smoother, very clear, flawless and so beautiful.
The scrub is very effective for sensitive skin and dry skin. Every day, your skin will become more resistant to imperfections and dark spots. After application, your body becomes more radiant, softer, and smoother, clearer and blemish-free.
This scrub seals in moisture and lessens dry skin because it is enriched with vitamins A, D, and E. It has a rich, creamy recipe that is deeply nourishing, and it also contains natural bamboo scrapes for that extra exfoliation and cleansing.
Talking about this scrub, I now remember a lady that uses this scrub. I never knew body scrubs can be that effective. We went on a field trip in calabar and that was where I met Vannessa. She is what you would call; if beauty is a person.
One day, we were having girls talk and I asked her what is the secret of her flawless skin. She told me her skincare routine and made mention of this scrub and is the only thing I don't know.
She asked me to try out the scrub. I was not a fan of body scrubs, but I decided to give it a try and now, everyone can not just stop staring and admiring my beauty and it keeps getting better.
I highly recommend gluta c scrub to everyone whether you are dark, chocolate, fair or white skin in complexion. This scrub removes dead skin cells from the body and moisturises skin.
You can also try truskin vitamin c serum, bio oil serum or skin free milk serum as an alternative.
Gluta C Scrub Ingredients:
Water, Synthetic Wax, Bamboo Scrubs Stearic Acid, Cetyl Alcohol, Glyceryl Stearate, Arbutin, Scutellaria Baicalensis, Saxifraga Sarmentosa, Acetyl Tyrosine, Glutathione, 3-Aminopropyl-L-Ascorbyl-Phosphate, Mineral Oil, Vegetable Oil, Paeonia Suffruticosa Root Extract, Fragrance, Propylene Glycol, Hydrogenated Polydecene, Phenoxyethanol, Caprylyl Glycol, Betaine, Titanium Dioxide, Glycol Stearate, Tetrasodium EDTA, Triethanolamine, Carbomer, and Carica Papaya Root Extract.
Gluta C Side Effects:
It doesn't have any side effects.
Gluta C Scrub Benefits:
1: It hydrates the skin
2: It nourishes the skin
3: It smoothens the skin
4: It removes dead skin cell
Is Gluta C a Bleaching Scrub?
No, it is not a bleaching scrub.
Does Gluta C Scrub Contain Hydroquinone?
No, it doesn't contain hydroquinone.
How Good Is Gluta C Scrub:
It is a very good scrub that moisturises the skin while removing dead skin cells from your body.
How To Use Gluta C Scrub:
Gently massage the scrub on your wet skin in circular strokes after a shower for 5 minutes and then rinse your body well with clean water.
Gluta C Scrub Price In Nigeria:
It cost N3200 in markets and cosmetics shops.
Where To Buy Gluta C:
You can buy the original scrub online from trusted vendors either on Jumia or on Konga.
Watch & Subscribe To Our YouTube Channel: