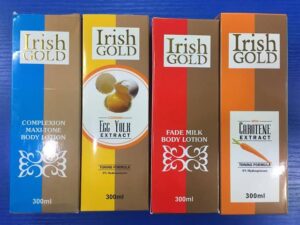 Irish Gold Lotion is a skin-lightening cream that gives you a consistent skin tone. This lotion works on the skin by nourishing, moisturizing, hydrating, and making the skin tone appear the same hue thanks to its very active components
The lotion tones your skin in 7 days and also regulates the synthesis of melanin, which causes brown spots. The lotion lessens pigmentation, imperfections and unifies your complexion. The lotion caters for your skin while reducing pigmentation and flaws on the skin.
This cream is one of the best moisturizers as it hydrates, soothes and deeply nourishes the skin. It makes the skin very soft, smooth and supple. It also brightens up and even out your skin tone.
It is a lovely lotion with a sweet scent that is perfect for all skin types and causes no skin irritation. The lotion is a toning cream intended to treat and aid in the removal of scars, spots, and sunburns on the skin with immediate effect.
My uncle's wife suffered from excessive stretch marks after she put to bed. She used different kinds of serums and lotions but none was effective. I went to spend my last holiday at his place and when I got there, his wife asked me to recommend any skincare product she can use.
After giving it a lot of thought, I asked her to try irish gold. I know a lady in my department that actually uses this lotion and her skin is an evidence of how good and effective the lotion is.
This lady in question has a flawless skin that anyone would wish for. She has been using the lotion for quite some time now and no any negative reaction has been spotted on her skin.
My uncle's wife bought the lotion when she went to the market the following day. The first comment she gave about the cream was its lovely smell. She was super impressed with the cream as she stated using it that same day.
Just seven days of her using the lotion, her stretch marks began fading and she was super excited with the effect. She took me out that night to a nice eatery which we had dinner.
I highly recommend irish gold lotion to anyone who wants to maintain a perfect skin tone without any reaction. The cream will revive your skin and bring it back to life. It will give you a uniform and fair glowing skin in the perfect way.
You can also try white express lotion, goji berry lotion or pretty white lotion as an alternative.
Irish Gold Lotion Ingredients:
Deionized Water, Mineral Oil, Glycerine, Emulsifying Wax, Dimethicone, Stearic Acid, Petroleum Jelly, Polysorbate 20, Castor Oil, Cetyl Alcohol, Isopropyl myristate, Silicon Oil, Carrot Extract, Tinogard, Carboxyl methyl Cellulose, Allantoin, Propyl paraben, Methyl Paraben, Fragrance.
Irish Gold Lotion Side Effects:
It doesn't have any side effects.
Types Of Irish Gold Lotion:
Irish gold cream is available in four flavors: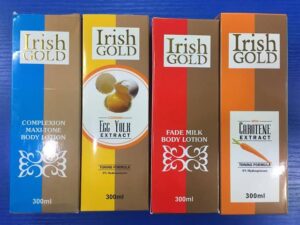 1: Egg yolk extract
2: Carotene extract
3: Fade milk body lotion
4: Complexion maxi-tone body lotion
Though it comes in different flavors but it performs the same functions which is to brighten and also moisturize the skin tone.
Irish Gold Lotion Benefits:
1: It moisturize the skin
2: It stops skin irritation
3: It stops inconsistent skin tone
4: It promotes firmness and radiance
Is Irish Gold Lotion a Bleaching Cream?
No, it is not a bleaching cream.
Does Irish Gold Cream Contain Hydroquinone?
No, it doesn't contain hydroquinone.
How Good Is Irish Gold Lotion:
It is a really good cream that will ensure your skin complexion is even tone and so beautiful.
How To Use Irish Gold Lotion:
Pump out some amount of the lotion on your palm and gently massage it all over your body until it is all completely absorbed into your skin.
Irish Gold Lotion Price In Nigeria:
It cost N2000 in markets and cosmetics shops.
Where To Buy Irish Gold Lotion:
You can buy the original cream online from trusted vendors either on Jumia or on Konga.