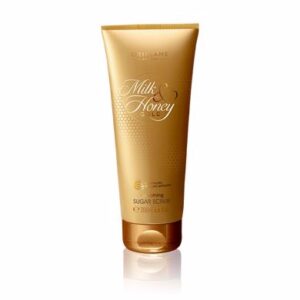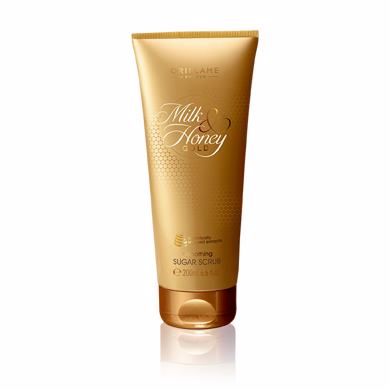 Oriflame Scrub is a luxurious gold soothing sugar scrub that contains organic milk and honey ingredients and these natural exfoliators gently removes dead skin cells from the body.
It is a sugar scrub that is gentle, nurturing, and smoothening while exfoliating, revitalizing, and locking in moisture for stunningly soft skin. This scrub contains vitamins, minerals, and proteins.
This scrub is so moisturizing and conditions your skin, resulting in soft, smooth and supple skin. This scrub has been a life saver for people with acne-prone skin because it dries pimples.
Use this scrub if you want to get rid of dead skin cells and watch your skin start glowing. The skin needs pampering. So, I am always looking out for things that are natural and beneficial for skin.
Scrubbing is essential in taking extra care of our body. It should be included in skincare routine when necessary because it does what ordinary cleansers are unable to do and it renew the skin.
Before I came across this scrub, my skin wasn't at all flawless. I searched for diverse skin care products until I came across this scrub online.
Using the scrub is one of the best gifts I gave to myself because it gave me the flawless skin I do desire. Apart from scrubbing off the dead skin cells on my body, it also helps to cure my acne.
I highly recommend oriflame scrub to everyone that desire to get that perfect glowing skin. This scrub would gently remove dead skin cells from your body and leave your skin renewed and pure.
You can also try kuu spa scrub, gluta c scrub or skin free milk serum as an alternative.
Oriflame Ingredients:
Sodium Hydroxide, Methylparaben, Sodium Laureth Sulfate, Benzophenone-4, Linalool, Sucrose, 2-bromo-2-nitropropane-1,3-diol, Mel, Sine Adipe Lac, Cocamidopropyl Betaine, Hydrated Silica, Phenoxy, Acrylates/c10-30 Alkyl Acrylate Crosspolymer, Hexyl Cinnamal, Parfum.
Oriflame Side Effects:
It doesn't have any side effects.
Oriflame Scrub Benefits:
1: It hydrates the skin
2: It smoothens the skin
3: It remove dead skin cells
4: It gives the skin flawless glow
Is Oriflame a Bleaching Scrub?
No, it is not a bleaching scrub.
Does Oriflame Scrub Contain Hydroquinone?
No, it doesn't contain hydroquinone.
How Good Is Oriflame Scrub:
It is a very good scrub that moisturises the skin while removing dead skin cells from your body.
How To Use Oriflame Scrub:
Gently massage the scrub on your wet skin in circular strokes after a shower for 5 minutes and then rinse your body very well with clean water.
Oriflame Scrub Price In Nigeria:
It cost N6000 in markets and cosmetics shops.
Where To Buy Oriflame Scrub:
You can buy the original scrub online from trusted vendors either on Jumia or on Konga.
Watch & Subscribe To Our YouTube Channel: