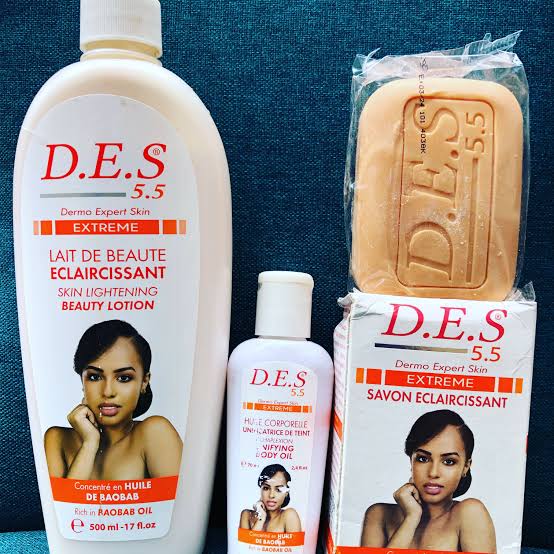 D.E.S 5.5 Beauty Cream is a skin lightening and brightening lotion formulated with baobab oil. It regenerates the skin and tones your complexion and gives you a uniform and beautiful skin tone.
This cream activates cell renewal and protects your skin from possible external aggressions and pollutants. It has a long lasting fragrance and locks moisture in your skin all day long.
It is an anti-aging cream that essentially blocks stress enzymes that trigger pigmentation. It stabilises tyrosinase and is effective in the inhibition of the production of excess melanin.
This lotion prevents the activity of tyrosine in the forming of melanin, the agent responsible for skin colouration. It also prevents the skin from roughening and it has anti-inflammation agent.
It prevents dryness and lighten dark patches and acne scars to give you an even toned skin. This lotion smoothens and softens the skin. It locks in moisture to reduce transepidermal water loss.
This body milk is a natural fairness body lotion. It brightens and also lightens your complexion gradually depending on how consistent you are using it. It is moisturizing and very nourishing.
It is formulated with powerful ingredients and antioxidants that reinforces the efficiency of the cream. It eliminates all your skin imperfections and cutaneous defects and protects your skin.
This cream is not an overnight skin lightening lotion. If you want something that will gradually tone your skin evenly and give you a beautiful complexion, then you can give d.e.s cream a try.
I highly recommend d.e.s soap and the cream to anyone who wants to brighten up their skin tone or maintain their complexion. It really works but gradually if you do not promix it with anything.
You can also try skin light cream, lemon clear lotion or gold skin body lotion as alternative.
D.E.S Cream Ingredients:
Water, Boabab Seed Oil, Mineral Oil, Petrolatum, Stearic Acid, Ascorbic Acid, Citric Acid, Stearyl Alcohol, Cetyl Stearylic Alcohol, Isopropyl Myristate, Methylparaben, Propylparaben, Sodium lauryl Sulphate, Sodium Sulfite, sodium Metabisulfite, Propylene Glycol, Lanolin, Glycerin, Tocopheryl Acetate, UVA, UVB, FD&C Pigments and Fragrance.
D.E.S Lotion Side Effects:
It gives some people white spots
Is D.E.S a Bleaching Cream?
No, it is not a bleaching cream.
Does D.E.S Cream Contain Hydroquinone?
No, it doesn't contain hydroquinone.
How Good Is D.E.S Body Lotion:
It is a good cream that will maintain your skin, brighten and also evens out your complexion.
How To Use D.E.S Lotion:
Pump out some amount of the lotion on your palm and gently massage it all over your body until it is all completely absorbed into your skin.
D.E.S Cream Price In Nigeria:
It cost N1100 in markets and cosmetics shops.
Where To Buy D.E.S Lotion:
You can buy the original cream online from trusted vendors either on Jumia or on Konga.
Watch & Subscribe To Our YouTube Channel: