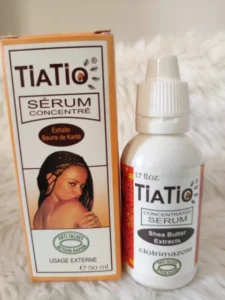 Tiatio Serum is a distinct oil specially made with shea butter. It is mild on the skin, smoothens, softens and clears up black spots, blemishes, discoloration and evens out your complexion.
This serum helps restores moisture, clarity, and tenderness to your skin. It gently removes dark spots from the skin. This shea butter formula repairs and restores damaged skin very quickly.
The anti-aging lightening serum gets rid of stretch marks, wrinkles, scars, and acne while reviving dry skin and restoring skin elasticity. It is good for all skin and can be used on the face.
Sometime ago, I was standing in a long queue at the bank when I sighted a lady with a rough face. I felt bad because I know she'll be very beautiful if only she is using the right skincare products.
At first, I didn't want to approach her. I was just minding my business until she came to me and she was like "Aunty, this your skin is very fine. Please which product are you using?. I smiled and asked her how come she has a rough face.
She told me that she developed a rough skin after she clock puberty and she has been trying all kinds of skincare products but non seems to work on her despite her consistency and routine.
I sighed and told her I use tiatio oil on my face. She looked shocked and said "I once used tiatio oil, but it didn't work on me". I asked her how long she used the serum and she said she only used it for 3 days and disposed it because she did not see any difference on her skin texture.
So she quickly replaced it with another skincare product which still did not work. She has used numerous face creams, facial cleanser, soaps, lotions, serums and oils but non worked on her.
I smiled and told her that she just was not patient enough with the serum. I asked her to try it for at least a week before concluding that it doesn't work because I have personally used it.
After a long chat with her, she agreed to try the serum again. We exchanged phone numbers and promised to keep in touch. She bought the serum on her way home and started using it.
A week later, she called to thank me because she has gotten her beauty back. I just smiled because I knew she was going to get back her smooth skin. It is just all about being patient.
When using any skincare product, you should be patient. Try and use it for at least a week before complaining. Stop jumping from one product to another because you can afford to purchase it.
I highly recommend this tiatio serum to anyone whose skin became dull looking for whatsoever reason, those with rough and uneven skin. It is suitable for every skin type, color and texture.
You can also try roushun vitamin c serum, 6 drops serum or clinic clear serum as alternative.
Tiatio Serum Ingredients:
Acid Ascorbic, Shea Butter Extracts, Glycerin, Sodium Clotrimazole, Vit. E, Metabisulfite, Fragrance, Acid Kojic and Propylene Glycol.
Tiatio Serum Side Effects:
It doesn't have any side effects.
Tiatio Serum Benefits:
1: It heals the skin
2: It erase black spots
3: It purify and cleans the skin
4: It Promotes skin tone, firmness, and radiance
Is Tiatio a Bleaching Serum?
No, it is not a bleaching serum.
Does Tiatio Serum Contain Steroids?
No, it doesn't contain steroids.
Does Tiatio Serum Contain Hydroquinone?
No, it doesn't contain hydroquinone.
How Good Is Tiatio Serum:
It is a good serum that erase black spots and makes your complexion flawlessly beautiful.
How To Use Tiatio Serum:
You can massage the serum gently into your skin until fully absorbed or mix it into your lotion.
Tiatio Serum Price In Nigeria:
It cost ₦2500 in markets and cosmetics shops.
Where To Buy Tiatio Serum:
You can buy the original serum from trusted vendors online either on Jumia or on Konga.
Watch & Subscribe To Our YouTube Channel: