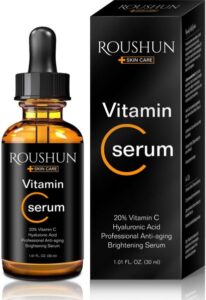 Roushun Vitamin C Serum is one of the few gel designed to cater for all skin types and color. It is an effective formula that deeply moisturizes your skin and improves its texture, making your face smooth, soft, supple, flawless and radiant.
This serum helps protect the skin against free radicals, which can cause damage and lead to premature aging.  This serum helps brighten up the skin by reducing the appearance of sunburn, acne scars, dark spots and hyperpigmentation.
One of the key ingredients in this serum is the hyaluronic acid, which helps to lock in moisture and keep the skin hydrated throughout the day. It is a facial serum that is gentle on the skin and an efficient beauty treatment for all skin types.
This serum contains natural antioxidant that gives you a youthful looking skin in a short period of time if you are consistent. It repairs damaged skin and restores it back to normal.
Using this serum regularly improves the overall appearance of your skin, making it to be brighter, smoother, and more youthful looking. It is also great for those with acne prone skin, as it can help to reduce the inflammation and redness.
One of the most effective ingredients for acne, discoloration, blackheads, and dark spots is pure concentrated vitamin c. It is something that works very well without giving you side effects.
This serum is suitable for all skin types, but it's especially beneficial for those with dull uneven skin tone, and hyperpigmentation. If you have dull looking skin and wants to brighten it up and reduce the appearance of dark spots, roushun vitamin c serum is definitely worth considering.
It is also a great choice for those with dry or dehydrated skin, thanks to the addition of hyaluronic acid, which helps to lock in moisture and keep the skin hydrated throughout the day.
Acne can be a frustrating and confidence-shattering experience for anyone who suffers from it. My good neighbor was no exception.
For years, she tried countless products and treatments to get rid of her acne, but nothing seemed to work. That is until she discovered the roushun vitamin c serum and started using it.
This vitamin c serum has been making waves in the skincare industry for its impressive results, and my neighbor can attest to its magic. After using the serum constantly, her face was totally transformed into a flawless beauty to behold.
Roushun vitamin c serum is a game-changer for anyone struggling with acne, and it could be the final solution that you have been searching for.
I highly recommend roushun vitamin c serum to everyone whether you are dark, chocolate, fair or white skin in complexion. This serum beautifies, moisturises, softens and smoothens your skin.
You can also try goji berry serum, gluta white serum or clinic clear serum as an alternative.
Roushun Vitamin C Serum Ingredients:
Alpha-Arbutin, Phenoxyethanol, Panax Ginseng Root Extract, PEG-40 Hydrogenated Castor Oil, Tocopherol, Fragrance, Citric Acid, Chondrus Crispus Powder, Xanthan Gum, Sodium Citrate, Arctostaphylos Uva-Ursi Leaf Extract, Morus Alba Root Extract and Water.
Roushun Vitamin C Oil Side Effects:
It doesn't have any side effects
Roushun Vitamin C Serum Benefits:
1: It softens the skin
2: It gives your skin an even tone
3: Lessen the appearance of wrinkles
4: It eliminate blemishes, acne and pimples
Is Roushun Serum a Bleaching Serum?
No, it is not a bleaching serum.
Does Roushun Face Cream Contain Hydroquinone?
No, it doesn't contain hydroquinone.
How Good Is Roushun Vitamin C Face Cream:
It is a very good serum that gets rid of skin problems and makes your face very beautiful.
How To Use Roushun Vitamin C Oil:
You can massage the serum gently into your skin until fully absorbed or mix it into your lotion.
Roushun Vitamin C Serum Price In Nigeria:
It cost ₦2,450 in markets and cosmetics shops.
Where To Buy Roushun Vitamin C Gel:
You can buy the original serum from trusted vendors online either on Jumia or on Konga.
Watch & Subscribe To Our YouTube Channel: