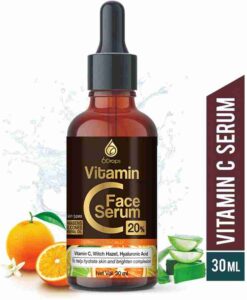 6 Drops Vitamin C Serum is an effective oil that contains a high concentration of pure vitamin c, a natural and safe antioxidant that promotes healthy skin and maintains your complexion.
This serum is applied topically to the face and neck, and it works by deeply penetrating the skin and providing it with the necessary nutrients it needs to repair, rejuvenate and restore itself.
If you are someone who have been struggling with dull looking skin, you should know how frustrating it can be. From trying out countless skincare products to changing your diet, nothing seems to work. Try 6 drops vitamin c serum, the ultimate solution to all your skincare problems.
This serum is packed with antioxidants and also essential vitamins. It has the power to transform the dullest of skin. You can now say goodbye to uneven skin tone, fine lines, and dark spots as the 6 drops vitamin c serum works its magic.
This powerful serum has been gaining traction in the beauty industry for its numerous benefits and effectiveness in achieving a flawless skin.
With constant use, you would get a brighter and more even complexion, reduced fine lines and wrinkles, and protection against harmful sun rays and environmental pollution everywhere.
Not only is this serum a natural antioxidant that helps to fight free radicals, but it also stimulates collagen production for a youthful looking skin. You can now say goodbye to a dull and tired skin and say hello to a beautiful glowing complexion.
My brother actually struggled with acne and dull skin for years, he tried out different products and treatment options without much success. Until I gifted him this serum to help me test it on his face, so that I can be able to do a proper review.
With just few drops he was using every night, his skin transformed into something we could not even imagine was possible. His face became smooth, spotless and now radiating with beauty.
I highly recommend 6 drops vitamin c serum to everyone whether you are dark, chocolate, fair or white skin in complexion. This serum beautifies, moisturises, softens and smoothens your skin.
You can also try goji berry serum, gluta white serum or clinic clear serum as an alternative.
6 Drops Vitamin C Serum Ingredients:
Water, Gluconolactone, Calcium Gluconate, MSM,  Disodium EDTA, Carrageenan, Tocopheryl Acetate, Green Tea Leaf Extract, White Tea Leaf Extract, Aloe Vera Leaf Extract, Glycerin,Sodium Benzoate, Hyaluronic Acid, Witch Hazel Water, Sodium Hyaluronate, Bitter Melon Fruit Extract, Holy Basil Herb Extract, Sodium Ascorbyl Phosphate Solution, Turmeric Root Extract, Ashwagandha Herb Extract, Ginger Root Extract, Mandarin Orange Peel Oil, Grapefruit Peel Oil, Potassium Hydroxide, and Potassium Sorbate.
6 Drops Serum Side Effects:
It doesn't have any side effects.
6 Drops Vitamin C Benefits:
1: Makes skin glow
2: Reduces dark circles
3: Fades aging and sun spots
4: Promotes skin tone, firmness, and radiance
Is 6 Drops Vitamin C a Bleaching Serum?
No, it is not a bleaching serum.
Does 6 Drops Serum Contain Hydroquinone?
No, it doesn't contain hydroquinone.
How Good Is 6 Drops Vitamin C Oil:
It is a very good serum that gets rid of skin problems and makes your face very beautiful.
How To Use 6 Drops Vitamin C Gel:
You can massage the serum gently into your skin until fully absorbed or mix it into your lotion.
6 Drops Vitamin C Serum Price In Nigeria:
It cost ₦2000 in markets and cosmetics shops.
Where To Buy 6 Drops Vitamin C Gel:
You can buy the original serum from trusted vendors online either on Jumia or on Konga.
Watch & Subscribe To Our YouTube Channel: