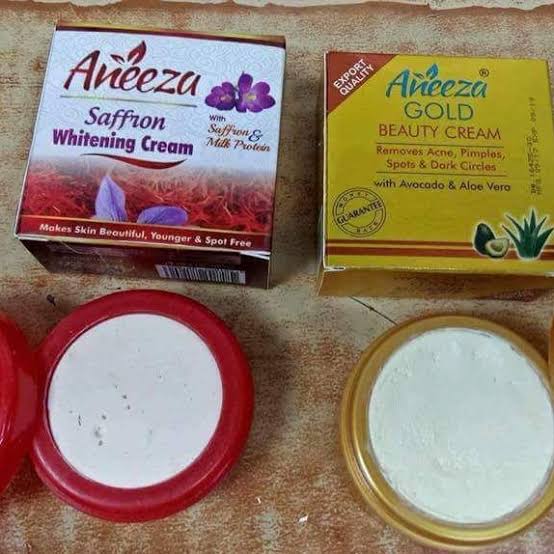 Aneeza Gold Beauty Cream is a treatment face cream made in Pakistan. It clears pimples, blackheads, discoloration, sunburns, melasma, dark spots, freckles and dark circles under eyes.
This face cream is incredible in getting rid of any form of hyperpigmentation. It is formulated with powerful ingredients that does everything that is written on it. It is also suitable for all skin types.
I was introduced to this face cream by a friend of mine. She swears it can get rid of any facial skin problem. So after reading some positive comments about it, I decided to give it a trial.
So I purchased it, unboxed the pack and read the leaflet which says it is for smoothness of skin and removal of stains from your body. So here is my honest review after using the aneeza cream.
The product really works but not as fast as I had expected. It cleared my black spots and reduced the appearance of dark circles under my eyes. It prevents my face from breaking out like before.
Sincerely, this aneeza gold beauty cream takes sometime before you start seeing its effect. It works gradually. It may take weeks before you notice any notable change on your facial skin.
However, there is one thing I love about this face cream which is that; the results you get from it lasts for a very long time, unlike other creams whose effects is only visible while you use them.
If you are dark or chocolate skin in complexion, do bear in mind that aneeza gold beauty cream lightens and brightens up your skin. So your face may not match the color of the rest of your body.
In conclusion, aneeza gold beauty cream really works in treating skin conditions but I wouldn't recommend it to ebony or caramel skin people because it gives a bleaching effect to their skin.
You can also try madam white face cream, quick clear or gluta white face cream as alternative.
Aneeza Face Cream Ingredients:
Water, Aloe Vera, Avocado, Kojic Acid, Citric Acid, Vitamin B6, Vitamin A, Alpha Arbutin, Glycerin, Titanium Dioxide and Fragrance.
Aneeza Face Cream Side Effects:
It makes some people sweat
Is Aneeza Gold a Bleaching Cream?
No, it is not a bleaching cream.
Does Aneeza Gold Contain Mercury?
No, it doesn't contain mercury.
How Good Is Aneeza Gold Beauty Cream:
It is a good cream that will get rid of your skin problems and make your complexion beautiful.
How To Use Aneeza Gold Face Cream:
Take some of the cream and gently massage it into your skin until it is all completely absorbed.
How To Know Original Aneeza Gold Beauty Cream:
1: The original has both numbers and the name boldly imprinted at the bottom of the container.
2: The cream of the original is off-colour white with a light consistency. While the cream of the fake is milky brown and the consistency is thick.
Aneeza Face Cream Price In Nigeria:
It cost N2000 in markets and cosmetics shops.
Where To Buy Aneeza Whitening Cream:
You can buy the original cream online from trusted vendors either on Jumia or on Konga.
Watch & Subscribe To Our YouTube Channel: