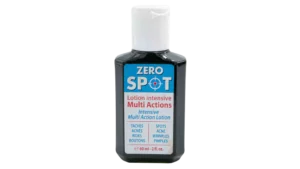 Zero Spot Cleanser provides instant comfort for itching skin and aids in the treatment of acne, bumps, sunburn, and black spots. It specializes in getting rid of facial imperfections. Your skin becomes silky and blemish-free when this toner finish clearing up your dark spots and pimples.
It is a little, yet mighty, and incredibly effective solution that aids in skin condition relief. It closes pores and removes extra oil from your face. The cleanser is suitable for all genders.
It works best when only used at night. It is advised not to use this treatment product for an extended period of time. When you get the results you want, you can stop using zero spot.
With its powerful multi-action formula, the cleanser helps you attain the clear, beautiful skin you've always wanted by erasing spots, acne, wrinkles, and pimples. For additional skin advantages, vitamin E is also present. It combats pigmentation issues and evens out, brightens, and whitens the skin complexion.
I once came across a lady that has sun burns and dark spots as a result of a lotion she was using. The sunburn looked terrible so I had to recommend this cleanser to her. She told me that she already has a cleanser she uses though it is not working. I asked her to try out zero spot.
She later agreed and bought the cleanser and then she started using it. Just after seven days of applying this cleanser, the result was visibly clear. She later called to thank me for my advise.
The next time I saw the lady, she was looking stunning. Her skin was looking flawless and I felt proud of myself for being the reason she is happy about her skin complexion and radiance.
I highly recommend zero spot cleanser to anyone who wants to even out their skin tone, get rid of blackheads, dark knuckles, acne scars, blemishes, melasma, sunburns and dark spots.
You can also try rdl baby face cleanser, peau de lune cleanser or skin doctor toner as alternative.
Zero Spot Cleanser Ingredients:
Water, Propylene Glycol, Fragrance, Alcohol, Glycerin, Triclosan, PPG-1-PEG-9 Lauryl Glycol Ether, Sodium Sulfite, Sodium Metabisulfite, Chamomilla Recutita Flower Extract, Allantion, Collagene, Humulus Lupulus (Hops) Extract, Zinc Oxide, Citric Acid, Tocopheryl Acetate (Vitamin E), UVA, UBV, FD&C Pigments.
Zero Spot Toner Side Effects:
It doesn't have any side effects.
Zero Spot Cleanser Benefits:
1: It clears pimples
2: It clears sunburns
3: It clears blemishes
4: It clears dark spots
5: It clears dark knuckles
Is Zero Spot Toner a Bleaching Cleanser?
No, it is not a bleaching cleanser.
Does Zero Spot Cleanser Contain Hydroquinone?
No, it doesn't contain hydroquinone.
How Good Is Zero Spot Cleanser:
It is a good cleanser that will get rid of your skin problems and also even out your complexion.
How To Use Zero Spot Cleanser:
Apply the cleanser on a cotton wool and gently clean your face with it. Let it dry on your skin before applying some moisturizer afterwards.
Zero Spot Cleanser Price In Nigeria:
It cost N2700 in markets and cosmetics shops.
Where To Buy Zero Spot Toner:
You can buy the original cleanser online from trusted vendors either on Jumia or on Konga.
Watch & Subscribe To Our YouTube Channel: