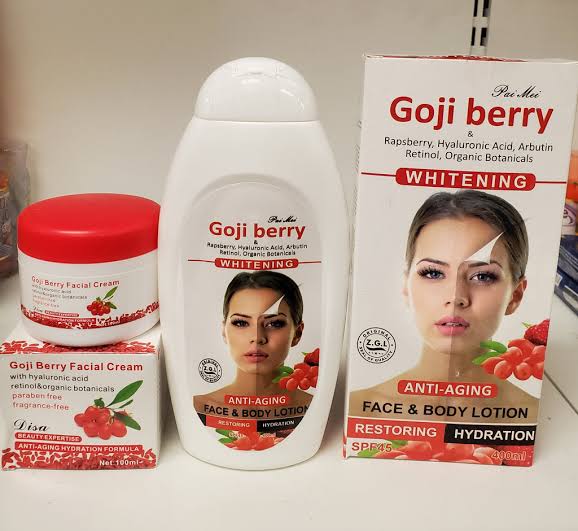 Goji Berry Lotion is a good cream for all round radiation that eliminates aging symptoms like dryness, uneven skin tone, and collagen loss. It is a lotion that has been made specially to give you the flawless and spotless skin you desire.
This lotion is made to deeply hydrate your skin while also assisting in the reduction of fine lines and wrinkles. A variety of organic substances are included in it, including goji berry extract, which is high in antioxidant and works to shield your skin from any form of free radical damage.
All skin types irrespective of the skin color can use this lotion everyday as part of their skincare regimen because it is suitable for them all. It is also suitable for both genders. Being a man shouldn't stop you from having a perfect skin.
Goji berries, which are frequently used in asian cooking, can enhance your skin by acting as an antioxidant. You can gain more advantages by including goji berry cream in your skincare routine. It will help in restoring your healthy skin.
A heavy oil molecule included in this lotion contains biotin as well as a variety of vitamins and minerals. It penetrates your skin deepest layers with the greatest effectiveness and also It clears your pimples and every unwanted spots.
For maintaining your skin, this lotion is the best. It has a creamy consistency and gives your skin the vitamins and the nutrients it requires to stay healthy at all times. You will love your skin when you start using this amazing goji berry cream.
Your beauty will be restored by using this lotion on every part of your body. It has a natural active component that is non irritating and also helps to rehydrate dry skin without giving you acne.
This lotion also has antioxidants that support collagen preservation, keeping you young and attractive. You'll never go wrong when it comes to this lotion. It will gently moisturize your skin, freeing you from any unwanted acne or spots.
I was at a shop where they do POS on a cloudy monday, when a beautiful lady came by to make a withdrawal. This lady is what you'll refer to as: If beauty was a person. She is too beautiful to be human. With her glowing and shining skin, you will quickly want to have a radiant skin like hers.
I kept stealing glances of her as I was making my own withdrawal. After her withdrawal, she left the place in a hurry. Luckily, we met at the shop again another day for the same purpose.
I seized the opportunity to compliment her skin and she smiled and said thank you. When I was done, I released a deep breath and summoned the courage to ask her what products she uses on her body for a flawless skin and she smiled.
I guess when you have a beautiful skin, you tend to smile a lot and she told me to try goji berry. She said she only started using the lotion some month ago and it has already given her the result she wants. I made up my mind to buy the lotion.
On my way back home, I bought the lotion from my authentic customer that sells all kinds of cosmetics. When I got home, I quickly took a bath and applied the lotion on my body. I applied it properly from my face down to my whole body.
Its been just two weeks of me using this lotion and I'm already in love with my skin and with the look of things, I doubt I'll be replacing it with any other lotion anytime soon. Why replace it when it is giving me the kind of skin I've always desired.
I highly recommend goji berry lotion to everyone who wants to maintain their natural complexion and make it glow. It will repair and restore your damaged skin and it is very moisturizing as well.
You can also try zero spot lotion, gold beauty lotion or caro fresh lotion as an alternative
Goji Berry Lotion Ingredients:
Goji Berry Extract, Raspberry, Hyaluronic Acid, Arbutin, Retinol, and Organic Botanicals.
Goji Berry Cream Side Effects:
It doesn't have any side effects.
Goji Berry Cream Benefits:
1: It lightens the skin
2: It smoothens the skin
3: It evens out the complexion
4: It also removes pigment spots
Is Goji Berry Lotion a Bleaching Cream?
No, it is not a bleaching lotion.
Does Goji Berry Lotion Contain Hydroquinone?
No, it doesn't contain hydroquinone.
How Good Is Goji Berry Lotion:
It is a really good lotion that would clear your skin and make your complexion very beautiful.
How To Use Goji Berry Lotion:
Pump out some amount of the lotion on your palm and gently massage it all over your body until it is completely absorbed into your skin.
Goji Berry Lotion Price In Nigeria:
It cost N1500 in markets and cosmetics shops.
Where To Buy Goji Berry Cream:
You can buy the original lotion online from trusted vendors either on Jumia or on Konga.
Watch & Subscribe To Our YouTube Channel: