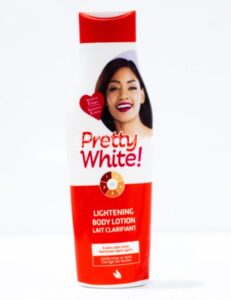 Pretty White Lotion is a skin lightening product that helps to balance out skin tone and get rid of dark spots and blemishes. It is a comprehensive skin care regimen that brings out your skin radiance and vitality. It also removes pigment spots, and even out the skin tone perfectly well.
Although, it is not as well-known as some other renowned lotions, the lotion is gradually getting ground. Ingredients in the lotion gently exfoliate skin and rapidly evens out the complexion. This lotion has a high concentration of vitamin E, aims to balance out the skin tone and texture.
The lotion smoothen the skin grain and helps to lessen the appearance of pigment spots; the oil and the lotion should be combined for a booster effect. This lotion is for persons who wants to get a lighter skin complexion while fading spots and imperfections off their bodies very quickly.
Apply this lotion effectively by massaging those regions with rougher skin in order to prevent developing darker knuckles on your hands and toes, as well as darker elbows, feet and knees.
Every skin type can use this lotion. However, I wouldn't suggest anyone with oily skin to use it on their face because some of the ingredients could lead to breakouts for skin that is prone to acne, such as oily skin. If applied properly, this lotion leaves the skin soft, radiant, and perfect.
Due to the inclusion of kojic acid and carrot oil, which are both natural ingredients that lighten skin, the lotion removes all kinds of blemishes. Kojic acid has similar effects to hydroquinone but is much milder than hydroquinone. It is one of the ingredients present in pretty white cream.
A friend of mine uses this lotion on both her body and face, and it has been working perfectly for her. Before she came across this lotion, she had a dull skin that is not that pleasant to the eyes. Her colleague at work introduced this lotion to her, which she started making use of.
This lady now has a vibrant skin. The lotion did a great job in lightening her skin the way she ever wanted. She applied this lotion the right way in order to avoid having dark knuckles or elbows.
I highly recommend pretty white lotion to anyone who desire to have a light, acne-free skin. It will greatly brighten your skin. It works like magic in clearing dark feet, knuckles, elbows and knees.
You can also try zero spot lotion, gold beauty lotion or caro fresh lotion as an alternative.
Pretty White Cream Ingredients:
Aqua, Petrolatum, Mineral Oil, Acrylic Acid, Cetearyl Acetate, Soluble Myristate, Silico Aqueous, Glycerin, Acid Kojic, Citrus Acid, Vegetable Oil, Metabisulfite Sodium, Vitamin E, Fragrance.
Pretty White Cream Side Effects:
1: It gives some people brown nails
2: It gives some people dark knuckles and elbows
Pretty White Lotion Benefits:
1: It lightens the skin
2: It smoothens the skin
3: It evens out the skin tone
4: It removes dark spots fast
Is Pretty White Lotion a Bleaching Cream?
Yes, it is a bleaching lotion.
Does Pretty White Lotion Contain Hydroquinone?
No, it doesn't contain hydroquinone.
How Good Is Pretty White Lotion:
It is a really good lotion that will lighten your skin fast and make your complexion very beautiful.
How To Use Pretty White Lotion:
Pump out some amount of the lotion on your palm and gently massage it all over your body until it is completely absorbed into your skin.
Pretty White Cream Price In Nigeria:
It cost N1500 in markets and cosmetics shops.
Where To Buy Pretty White Cream:
You can buy the original lotion online from trusted vendors either on Jumia or on Konga.

Watch & Subscribe To Our YouTube Channel: