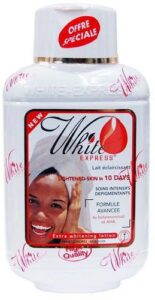 White Express Lotion is an amazing skincare product that protect your skin from spots while lightening it. This lotion aids in the removal of blemishes, and discoloration. Natural herbal ingredients in this lotion promotes a fairer skin.
Your skin is well taken care of everyday with this body milk, that contains effective plant extracts that lightens, brightens, softens, smoothens and also shields your body from harmful pollution.
This lotion gently smoothen your skin giving you that perfect flawless skin you do desire without leaving any spots behind. It is rich in vitamins. Less wrinkles can be seen while using this lotion in just a period of few days, brown blemishes disappear, and your skin texture is improved.
Using this lotion will be of great advantage to you because it will greatly moisturize your skin the way you want and lighten your skin while fading away blemishes. It also has a nice smell.
A friend of mine uses this lotion for years now. She is light in complexion and she has this flawless skin I admire a lot. Before she started using this lotion, she was not that light tone in complexion and her skin wasn't that appealing.
When she came across this lotion on Jumia at first, she told me about it and I encouraged her to try the lotion if she likes it. She placed an order that same day, and it was delivered to her in the next three days. Just seven days of her using this lotion, the result was visible. She was excited and since then, she has been using it.
I highly recommend white express lotion to anyone who desire to have a light skin. It will brighten your skin and get rid of dark spots and discoloration you have and you don't even need to use it everyday to see the result you want.
You can also try zero spot lotion, gold beauty lotion or caro fresh lotion as an alternative.
White Express Cream Ingredients:
Butyresorcinol, AHA, Cetyl Stearate Acid, Petroleum Oil, Isopropyl Palmitate, Cetearyl Alcohol, Tocopherol, Citric Acid, Dimethicone, Benzoyl Alcohol, Propylene Glycol, Methyl Paraben, Propyl Paraben, and Fragrance.
White Express Cream Side Effects:
It gives some people sunburn
White Express Cream Benefits:
1: It lightens the skin
2: It evens out skin tone
3: It moisturizes the skin
4: It also removes blemishes
Is White Express Lotion a Bleaching Cream?
Yes, it is a bleaching lotion.
Does White Express Lotion Contain Hydroquinone?
Yes, it contain hydroquinone.
How Good Is White Express Lotion:
It is a really good lotion that would clear your skin and make your complexion very beautiful.
How To Use White Express Lotion:
Pump out some amount of the lotion on your palm and gently massage it all over your body until it is completely absorbed into your skin.
White Express Lotion Price In Nigeria:
It cost N2700 in markets and cosmetics shops.
Where To Buy White Express Cream:
You can buy the original lotion online from trusted vendors either on Jumia or on Konga.
Watch & Subscribe To Our YouTube Channel: