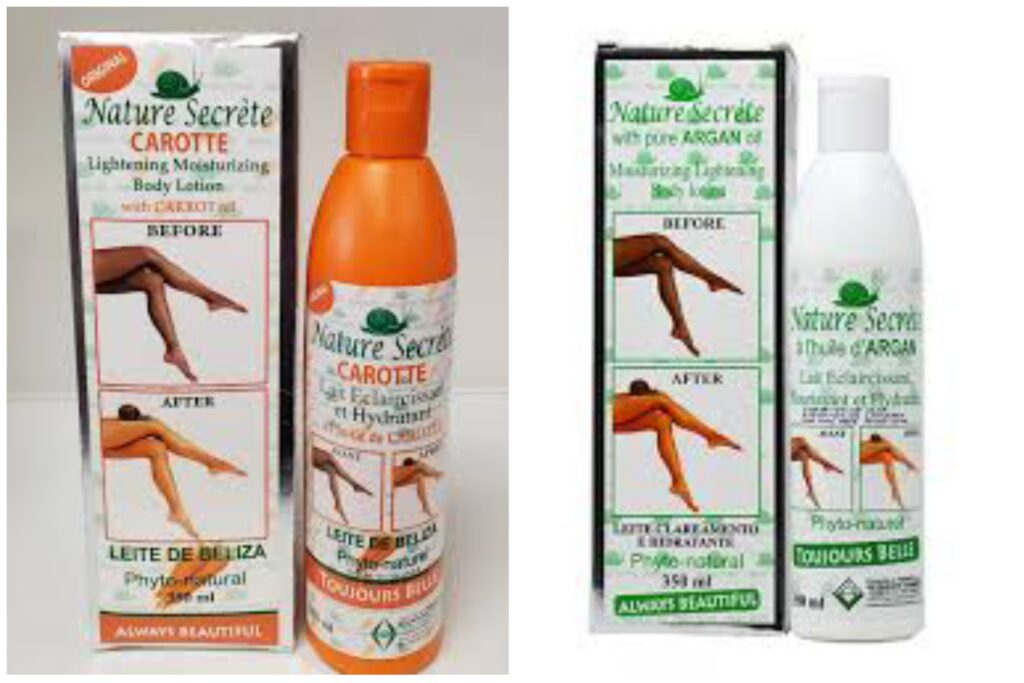 Nature Secret Cream is another lotion I have used that turned out to be what I didn't expect. Due to its name, anyone would think it is natural and chemical free but unfortunately it is not.
I like the fact that they put a picture of before and after, showing that the person went from dark to light skin tone which shows it is a lightening cream. I bought it thinking it is a natural lightening cream which would work gradually but it lightened my skin within a week.
The problem with some reviews on the internet is that, they are false. Because most bloggers are just interested in making money without any findings whatsoever. Some just copy and paste.
Imagine explaining further in details exactly what is written on the packaging of skincare products as a review and putting your readers health in jeopardy and their skin at great risk.
You can't just explain what is written on the packaging of products and call it a review without testing it or making extensive research to make sure it is what the producers say it is.
Because some of these manufacturers lie a lot just to sell their products and make their money without minding whose life is paying for it. Most write-up you see on them are just for marketing.
I know countless people who can no longer wear shirt sleeve or a short even at home because of stretch marks and discoloration. Some people's stretch marks are now everlasting while others are left with low self-esteem to battle with now.
And I think the reason people search for reviews online is to avoid skincare products side effects. So that when people read and learn about what they are wanting to buy, they can make informed decision and not ruin their skin out of ignorance.
That is why on Reviews Blog Media, we buy these products for testing on our skin first, make findings and thorough research before we put out any information here. We are focused on building a reputable brand and not just out here to make money off other people's problems.
We are instead the problem solvers and we provide solutions for our amiable audience worldwide who are always ready to read and leave their own reviews for others to learn from.
We are grateful for the messages through our contact form, your comments, subscriptions to our email newsletter and all your appreciations and acknowledgement. I'm seeing everything, and I try as much as I can to reply to everyone.
Coming back to nature secret body lotion, it is one of those creams that lightens your skin very fast but you will get dark immediately you stop using it. It is for people who wants to lighten up their skin or maintain their fair skin complexion.
I highly recommend this nature secret cream to people who wants to lighten their skin. It is very effective even without mixing it with anything but bear in mind that it is not for dark people.
You can also try toujours jeune lotion, gold olive lotion, DES, or snail white cream as alternative.
Nature Secrete Cream Ingredients:
Aqua, Argan Oil, Paraffinum Liquidum, Arbutin, Glycerin, Fruit Acids, Kojic Acid, Salicylic Acid, Cetyl Alcohol, Propylene Glycol, Dimethicone, Myristate Isopopyl, Sodium Metabisulphite, Sodium Sulfite, Sodium Bnezoate, Tocopherol Acetate, UVB-UVA, EDTA, BHT, BHA, Linalool, Xanthane Gum, Limontene, Hexyl Cinnamal, Fragrance.
Nature Secrete Cream Side Effects:
1: It has an awful smell
2: It makes the palms red
3: It causes discoloration
4: It gives some people pimples
5: It gives some people stretch marks
Is Nature Secret Lotion a Bleaching Cream?
Yes, it is a bleaching cream.
Does Nature Secret Cream Contain Hydroquinone?
No, it doesn't contain hydroquinone.
How Good Is Nature Secret Cream:
It is a lotion that lightens your skin very fast.
How To Use Nature Secret Lotion:
Pump out some amount of the lotion on your palm and gently massage it all over your body until it is completely absorbed into your skin.
Nature Secret Cream Price In Nigeria:
It cost ₦2000 in markets and cosmetic shops.
Where To Buy Nature Secret Body Lotion:
You can buy the original cream online from trusted vendors either on Jumia or on Konga.