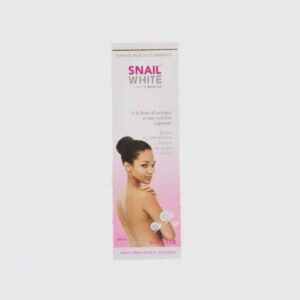 Snail White Cream is a body lotion that was produced with the combination of snail slim and plant extracts with the sole aim of minimizing dark spots and also reducing pigmentation.
The key ingredients in this wonderful body cream are alpha-arbutin, kojic acid, giga white and snail secretion filtrate and together they work to prevent the skins production of melanin.
Those with natural fair complexion who desire even skin tone can use this lotion because it will greatly moisturize and brighten up their skin tone while maintaining their natural complexion.
If a person with dark complexion use this lotion, different consequences could result, such as darker knuckles, elbow and feets or even bleaching of the skin and also skin decoloration.
This lotion is free from harsh chemicals, parabens, sulfates, and artificial dyes, it is a gentle and safe choice for daily use. The lotion's dermatologically tested formula ensures compatibility with most skin types, and also minimizing the risk of skin irritation or more.
This cream is abundant in nutrients and has beneficial effects on natural skin regeneration, helps to brighten skin and encourages the production of collagen for firm and healthy skin.
The lotion also helps renews and rejuvenates the skin while visibly reducing the appearance of skin redness, dark spots, pimples, eczema and scars while also maintaining a youthful glow.
Two months ago, a male friend of mine suffered from skin irritation and eczema. He is extremely light in complexion. This reaction was as a result of a lotion he was using during summer break.
I was concerned and asked him to stop using the lotion and he stopped and got another lotion. This new lotion he bought gave him another unwanted reactions which include pimples, etc.
He had to stop using the lotion immediately and he was frustrated with the whole thing. On a sunday night, I was going through a particular website when I came across this snail lotion.
Judging by the reviews, I felt the lotion will be perfect for this male friend of mine so I quickly placed an order on jumia. Three days later, the lotion was delivered to me and I gave it to him.
He was grateful as I gave the cream to him. He started using the cream and in the next 7 days, he came back to thank me more. He said the cream was the exact magic he was looking for.
I highly recommend snail white cream to anyone who wants to brighten their skin safely without any side effects. It really works perfectly and you will definitely be impressed with the results.
You can also try white express lotion, goji berry lotion or pretty white lotion as an alternative.
Snail White Cream Ingredients:
Stearylic alcohol, Water, White oil, IPM, Petroleum jelly, Glycerin, Stearic acid, Citric acid, Propylene glycol, Fragrance, Kojic acid, Sodium metabisulfite, AHA, Snail slime extract.
Snail White Cream Benefits:
1: It clears dark spots
2: It clears acne scars
3: It brightens the skin
4: It reduces signs of aging
5: It repairs damaged skin barrier
6: It gets rid of hyperpigmentation
8: It lightens skin safely and effectively
Snail White Lotion Side Effects:
1: It bleaches dark skin
2: It could cause discoloration on dark skin
Is Snail White a Bleaching Cream? 
No, it is a bleaching cream.
Does Snail White Cream Contain Hydroquinone?
No, it doesn't contain hydroquinone.
How Good Is Snail White Cream:
It is a very good lotion that lightens your skin safely and make your body smooth, and soft.
How To Use Snail White Cream:
Pump out some amount of the lotion on your palm and gently massage it all over your body until it is completely absorbed into your skin.
Snail White Cream Price In Nigeria:
It cost ₦1200 in markets and cosmetic shops.
Where To Buy Snail White Cream:
You can buy the original cream online from trusted vendors either on Jumia or on Konga.