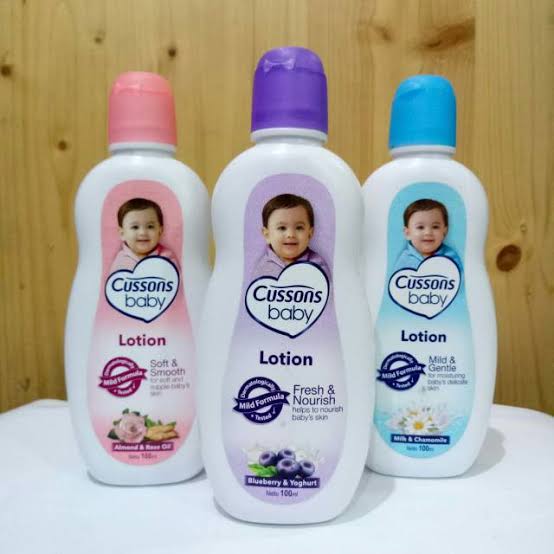 Cussons Baby Lotion is an amazing moisturizer clinically tested to take good care of tender and delicate skin. It is proudly owned by PZCussons company founded in 1879 by Thomas Cussons.
This moisturiser has a mild soothing effect on baby's skin. This lotion hydrates your skin and prevents irritation. It is best used immediately after bathing when your child's skin is still wet.
It gently deep cleanses your baby's skin without drying it out. It is suitable for all skin types most especially sensitive skin. Cussons baby cream moisturises and soothes your skin all day long.
This lotion is a very rich moisturizing body milk cream designed for children and teenagers to combat excessive dryness, flakiness, and also rough skin to leave their skin feeling rejuvenated.
It brightens, nourishes and also revitalizes your child's complexion by gently and slightly toning his or her skin tone. Cussons baby cream is an amazing body milk loaded with key components.
This cream promotes healthy new skin cells for developing kids, teens, and the entire family. It is gentle on their skin, nourishing and gets rid of dirts, impurities, excess oil and contaminants.
It also renews, refreshes and reveals a healthier, brighter and radiant skin complexion. It is a very hydrating essence that leaves skin feeling soft, so pleasant, and silky smooth after application.
Cussons baby cream soothes and moisturizes skin while also healing diaper rash. It relieves itching caused by dry skin, cradle cap, flaky and eczema. It locks in moisture and heals the skin.
I highly recommend this cussons baby lotion to mothers who wants to take good care of their baby's skin and make it glow. It really works and is very moisturizing, nourishing and hydrating.
You can also try vaseline petroleum jelly, boots baby lotion or pears baby lotion as alternaltive.
Cussons Baby Lotion Ingredients:
Aqua, Glycerin, Mineral Oil, Sweet Almond Oil, Rosa Damascena Flower Oil, Olea Europaea Oil, Stearic Acid, Glyceryl Stearate, Ethylhexyl Palmitate, Dimethicone, Phenoxyethanol, Methylparaben, Ethylparaben, Propylparaben, Butylparaben, Isobutylparaben, Carbomer, Disodium EDTA, Sodium Hydroxide and Parfum.
Cusson Baby Lotion Side Effects:
• It peels some babies skin
• It gives some babies rashes
Is Cussons Baby Lotion Good For Babies?
Yes, it is specially designed for babies.
Is Cussons Baby Lotion Good For Adults?
Yes, it is good for adults.
Does Cussons Baby Lotion Darken Skin?
No, it doesn't darken the skin.
Does Cussons Baby Lotion Bleach?
No, it doesn't bleach the skin.
How Good Is Cusson Baby Lotion:
It is a good cream that takes very good care of tender and delicate skin and makes it healthy.
How To Use Cussons Lotion:
Pump out some amount of the lotion on your palm and gently massage it all over your body until it is all completely absorbed into your skin.
Cussons Baby Lotion Price In Nigeria:
It cost N1500 in markets and cosmetics shops.
Where To Buy Cussons Lotion:
You can buy the original cream online from trusted vendors either on Jumia or on Konga.
Watch & Subscribe To Our YouTube Channel: