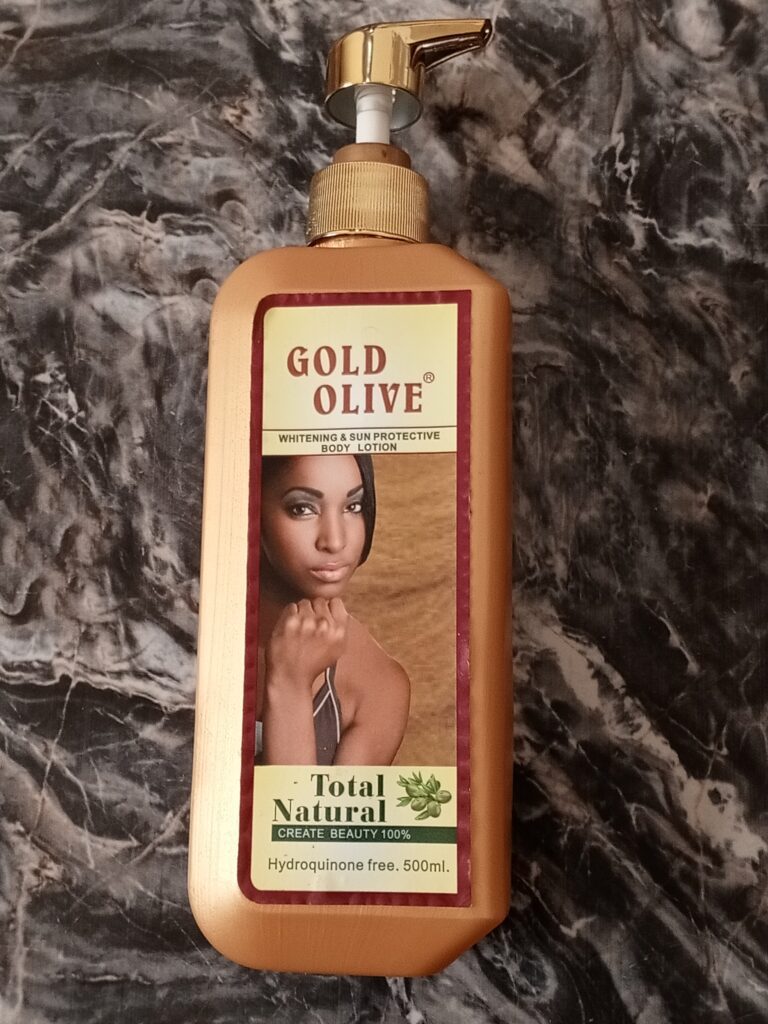 Gold Olive Cream is a very strong bleaching cream being marketed as totally natural and hydroquinone free. Anyone who have used this lotion can testify that everything written on the container of this cream are marketing strategy lies and I will explain what I mean in this article.
I bought this cream after seeing total natural and hydroquinone free but guess what; this lotion is a very active bleaching cream that almost ruined my skin when I least expected it.
Can you believe that I used this cream for just 3 days and I can't believe how red my palms got. I was shocked to see in-between my fingers with black-ish stains and I already started getting little knuckles by then which I didn't have before.
I started checking my body and noticed I have reddish stains on my foot with my leg and hand discolored. I'm not exaggerating here but this cream really pissed me off because it was the opposite of what was being marketed and sold.
I have used both caro white and caro tone and I didn't even notice this rate of activeness in just 3 days. The most painful part is deceiving people to buy a bleaching cream, in the name of natural.
Lightening creams is more patronized in Africa. So if you want to sell bleaching creams that would sell faster, I don't understand why you have to deceive people that it is a natural cream and force them to bleach and spoil their skin.
I have stopped bleaching my skin and I am currently on a journey of restoring my natural skin tone back. That's why I was so annoyed when I realize it is a chronic bleaching cream.
Don't be deceived, this cream is a strong and very active lotion that would damage your skin if you use it with carelessness. Don't mistakenly enter the sun after applying this on your face.
For those of us who have already being mislead to buy the lotion because of the packaging, I have a solution for us. Just buy olive oil and mix into the cream to deactivate the activeness.
I highly recommend gold olive cream to those who like mixing mixing. The cream is good for promixing because of it high level of activeness. If you don't want to bleach your skin, don't buy this cream for your own good to avoid regrets.
You can also try toujours jeune lotion, pretty white lotion, snail white cream as alternative.
Gold Olive Lotion Ingredients:
Water, Stearic Acid, Mineral Oil, Isopropyl Myristate, Glycerin, Dimethicone, Fragrance, Cetyl Alcohol, Propylene Glycol, Kojic Acid, Sodium Sulfite, Sodium Metabisulphite, MethylParaben, Propyl Paraben, Carbomer, Allantoin, EDTA, Citric Acid, and Vitamin E.
Gold Olive Cream Side Effects:
1: It makes your foot red
2: It gives you dark knuckles
3: It makes your nails very red
4: It makes your palms very red
5: It makes your skin discolored
6: It makes in-between your fingers dark
Is Gold Olive a Bleaching Cream? 
Yes, it is a bleaching cream.
Does Gold Olive Cream Contain Hydroquinone?
No, it doesn't contain hydroquinone.
How Good Is Gold Olive Lotion:
It is a lotion that lightens your skin very fast.
How To Use Gold Olive Lotion:
Pump out some amount of the lotion on your palm and gently massage it all over your body until it is completely absorbed into your skin.
How To Open Gold Olive Cream:
Just take out the lotion from the packet and then gently turn the nozzle to the left and pull it up to open it. Do it repeatedly if it fails to open.
Picture of Gold Olive Cream:
Gold Olive Cream Price In Nigeria:
It cost ₦2000 in markets and cosmetic shops.
Where To Buy Gold Olive Body Lotion:
You can buy the original cream online from trusted vendors either on Jumia or on Konga.