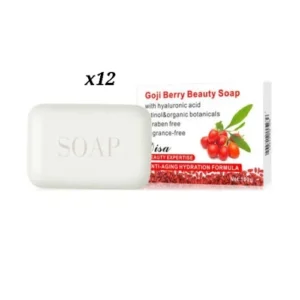 Goji Berry Soap Is a popular soap that was carefully created to help even out skin tone, lessen hyperpigmentation, absorb and retain moisture.  Additionally, goji berries boost the creation of collagen, offer UV protection and lessen the appearance of aging with wrinkles.
This soap contains natural antioxidants and anti-microbial qualities that help protect, restore, and prevent skin damage thanks to the addition of raw honey and honey powder in it. All skin types will benefit from this, and also those with acne or dark spot issues will benefit the most of it.
When it comes to natural skincare ingredients, goji berries have gained significant attention for their numerous health benefits. These small, bright red berries are very well packed with essential nutrients, vitamins, and antioxidants that promote overall well-being of the skin.
This soap is known for it's high antioxidant content, making them a valuable ingredient in skincare products. Antioxidants play a crucial role in fighting free radicals, which are harmful molecules that can damage the overall skin. 

It is often enriched with natural oils and more moisturizing ingredients, making it an excellent choice for maintaining hydrated and nourished skin.Thanks to its abundance of vitamins, the soap offers remarkable anti-aging benefits.
The vitamins present in goji berries, are essential for promoting collagen production, improving skin elasticity, and reducing the appearance of fine lines and wrinkles. If you desire a brighter and even skin tone, this soap can be a valuable addition to your skin routine.
The soap's gentle exfoliating properties help to remove dead skin cells, revealing a fresh layer of skin that appears more radiant and vibrant. The soap is known for its soothing properties, making it suitable for people with sensitive skin.
There was this young lady that use to live in my compound before, she had a skin challenges due to a lotion she used. I was concerned about her skin so we became friends. One days, we were gisting and I asked her what effort she has made so far to get rid of her skin challenges.
She told me she has already given up on all skincare products after trying numerous products and none were effective. She then complimented my skin and asked the secret behind my flawless and super radiant skin.
I then smiled and told her boldly that I make use of goji soap. She was surprised and said she never knew the soap was that effective. I told her I have been using the soap for months now after a friend of mine recommended it to me.
She promise to use the soap and I assured her that she won't be disappointed. After seven days of her using the soap she came excitedly to thank me for recommending the soap to her saying her skin confidence has been restored.
I highly recommend goji berry soap to everyone who is battling with unending skin problems. This soap will gently get rid of all your skin problems and maintain your natural complexion.
You can also try cottage fresh soap, yori yori soap, sanitol soap or dettolas an alternative.
Goji Berry Saop Ingredients: 
Apple Juice, Olive Oil, Coconut Oil, Sunflower Seed Oil, Potassium Hydroxide†, Filtered Water, Glycerin, Sea Salt, Rosemary Extract, Vitamin E, Lemongrass Oil, Orange Oil, Citric Acid, Goji Berries, Oat Extract,  Vitamin E.
Goji Berry Soap Side Effects:
It doesn't have any side effects.
Goji Berry Soap Benefits:
1:It reduce wrinkles.
2:It improve skin elasticity
3:It help restore skin damages
4:It make the skin looks more radiant
Is Goji Berry a Bleaching Soap?
No, it is not a bleaching soap.
Does Goji Berry Soap Contain Hydroquinone?
No, it doesn't contain hydroquinone.
How Good Is Goji Berry Soap:
It is a really good soap that would clear your skin and make your complexion very radiant.
How To Use Goji Berry Soap:
Rub the soap with water on your palm to form bubbles and apply on wet face. Massage the lather gently and rinse off. Clean your face with a towel and apply some moisturizer afterwards.
Goji Berry Soap Price In Nigeria:
It cost N1000 in markets and cosmetics shops.
To Buy Goji Berry Soap:
You can buy the original soap online from trusted vendors either on Jumia or on Konga.