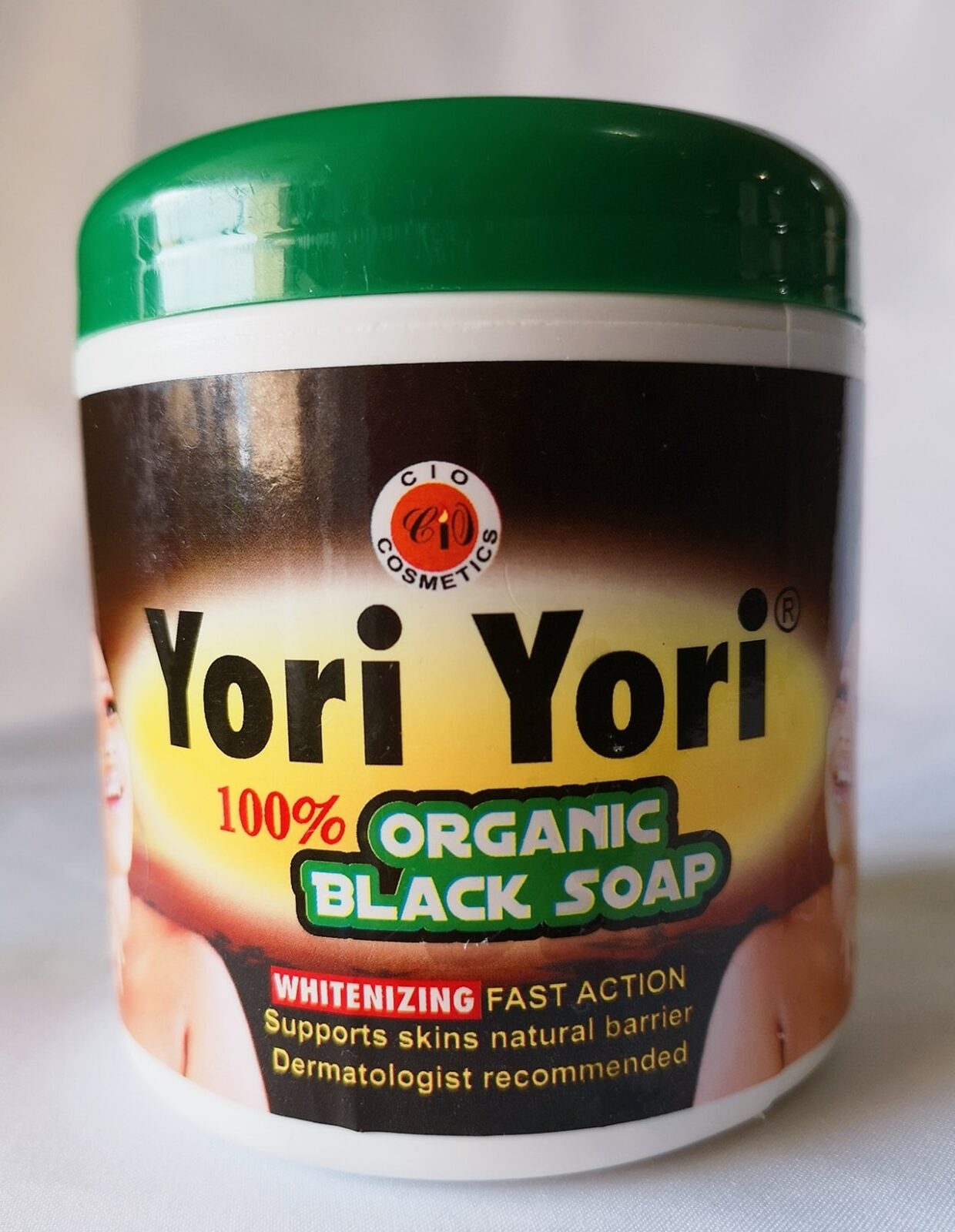 Yori Yori Organic Black Soap is a natural soap specially formulated with herbal extracts and vegetable oils. It is a whitening soap that gives your skin a very flawless and beautiful glow.
It is a natural soap that removes blemishes, clears stretch marks, green veins, acne, pimples, discoloration and other skin problems. This soap fights bacteria and moisturizes your skin.
This yori yori soap is good but it is not suitable for all skin types because I recommended it to one of my client and after a few weeks of using the soap, she testified of how effective it is.
She said she has been glowing and radiating after that. She said she also love how her body feels after bathing with the soap and that it also doesn't have the scent of the normal black soap.
She sent me recent pictures of her and she was indeed spotless. After that, her husband also decided to use soap because he loved his wife's skin. But unfortunately, the soap did not work well for him unlike his wife. It gave him rashes and itching and he had to discontinue using it.
The only reasonable explanation I have for that situation is that; this yori yori organic black soap is not for all skin types because he also used from the same container and not another jar.
And I cannot particularly tell you the type of skin that can use the soap. But you can give it a try and see if it works for your own skin because most of the reviews I have seen and the feedbacks I have gotten so far are good ones.
I highly recommend yori yori organic black soap to those battling with one skin problem or the other. It is a natural herbal soap that clears the skin very fast within a short period of time.
You can also try cottage fresh soap, crusader soap, tura soap or dettol soap as alternative.
Yori Yori Soap Ingredients;
Herbal Extracts, Glycerine, Vegetable Oils and Fragrance.
Yori Yori Soap Side Effects;
• It gives some people rashes
• It gives some people itching
Yori Yori Soap Benefits;
1: It removes acne
2: It fights bacteria
3: It is ph balanced
4: It removes pimples
5: It clears green veins
6: It removes blemishes
7: It moisturizes the skin
8: It clears stretch marks
9: It gives a natural fair tone
10: It gets rid of hyperpigmentation
How To Activate Yori Yori Black Soap:
If you really want it to whiten your skin, I am going to tell you how to promix yori yori black soap to get you 4 shades lighter in a short time.
Just buy 1 container of citro clear serum and mix it with 1 container of your yori yori black soap and you will testify of the whitening effect.
How Good Is Yori Yori Organic Soap:
It is a very good black soap that will clear and brighten up your skin and make it beautiful.
How To Use Yori Yori Black Soap:
Scoop some of the soap onto your sponge and bath your body just like you do with any soap.
Yori Yori Soap Price In Nigeria:
It cost N2000 in markets and cosmetics shops.
Yori Yori Soap Price In Ghana:
It cost GH₵50 in markets and cosmetics shops.
Where To Buy Yori Yori Herbal Soap:
You can buy the original soap online from trusted vendors either on Jumia or on Konga.
Watch & Subscribe To Our YouTube Channel: