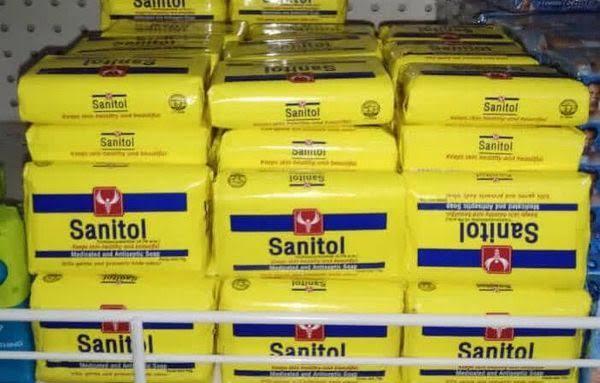 Sanitol Soap is used for personal hygiene and hand washing. It kills germs and bacteria on the body. It is often used in healthcare settings or by people who work in environments where they're frequently exposed to hazards and pollutions.
It contains active ingredients that are designed to kill germs and bacteria, including triclosan and benzalkonium chloride. These ingredients work by disrupting the cell membranes of the bacterias, which ultimately leads to their death.
Tetmosol soap and sanitol soap are my go to body wash, whenever I don't want to lighten my skin. They maintain my skin complexion and get rid of any blemishes on my face and entire body.
I have been using sanitol for some years now and the only down sides of it are; it makes you darker if you are not using a strong lightening cream. It also melts away easily inside water.
Apart from that, it has a nice fragrance, yellow in color and foams alot. It deep cleanses your skin and removes dirt, impurities and excess oil from your skin. It refreshes and nourishes your body.
I recommended this sanitol soap to a black in complexion lady recently and she just shouted and said; this soap that made me darker and I nearly turned into night. I couldn't stop laughing because she is already like charcoal, so I don't understand the getting darker phrase she used.
I would have understood the statement if it was coming from a light skin person but well, our skin differ, so I understand. I'm sharing this, so that even if you are black, you will not just assume only fair people can become dark. It can happen to anyone depending on your skin type.
So, you can just use it to clear your rashes and other skin problems, then you return to a normal soap that would balance your skin complexion, maintain your whole body and make it glowing.
Anyway, I told her to opt for tetmosol, as it will be very unpleasant to try to bleach this level of dark skin. I elaborated on the many side effects involved and how it will be an unending journey trying to repair your skin and bring it to normal.
I always tell people destruction is easier than construction. A house that took someone five years to build, can be demolished within a few hours. So, in all aspects of life, try and reason this way before making any crucial decision.
I highly recommend sanitol soap to people who are not interested in bleaching their skin. It will maintain your natural skin complexion, and get rid of any germs or bacteria on your whole body.
You can also try crusader soap, tura soap, dettol soap, premier or tetmosol soap as alternative.
Sanitol Soap Ingredients:
Aqua, Soap Base, Triclosan, Sodium Chloride, Trichlorocarbonilide, Colour and Perfume.
Sanitol Soap Side Effects:
It doesn't have any side effects.
Is Sanitol Soap Good For Face?
Yes, it is good for the face.
Does Sanitol Soap Lighten Skin?
No, it doesn't lighten the skin.
How Good Is Sanitol Soap:
It is a good soap that will get rid of your skin problems and also even out your complexion.
How To Use Sanitol Soap:
Rub the soap with water on your palm to form bubbles and apply on wet face. Massage the lather gently and rinse off. Clean your face with a towel and apply some moisturizer afterwards.
Sanitol Soap Price In Nigeria:
It cost N250 in markets and cosmetics shops.
Where To Buy Sanitol Medicated Soap:
You can buy the original soap online from trusted vendors either on jumia or on konga.
Watch & Subscribe To Our YouTube Channel: