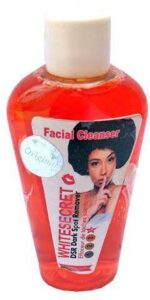 White Secret Facial Cleanser is a face toner that remove makeup and other surface impurities to reveal skin that is clearer and silkier after use. This cleanser for the face is clear, light, and mild; it removes traces of makeup and debris from the skin while also helping to keep the skin natural.
The toner is designed to be utilized on a daily basis. This facial cleanser is applied to the face to remove make-up, dead skin cells, and other unwanted skin challenges. With the help of this toner, you can achieve a more brighter and healthy skin in just few days of using it.
During the cleansing process, the lactic acid and natural AHA found in the formula of this toner serve to provide the skin with the moisture it needs to look and feel its best. Your face will get brighter and smoother thanks to this cleanser.
This cleanser helps to keep pores clear and prevents skin disorders like acne. cleansing is the first step in any good skin care routine, and it is an absolute must if you want to maintain the health of your skin. This toner is the best toner to use if you want a flawless and spotless skin.
This cleanser will give you the perfect cleaning you desire while also maintaining the skin. My cousin has been using this facial toner for months now, and her skin is a clear proof of how good and effective this cleanser is. She suffered from different skin challenges before she came across this facial toner that changed her life.
This facial toner does not just remove make up but also restore the face complexion giving it a healthy glowing look. My cousin has a spotless face and this is as a result of the facial cleanser.
I highly recommend white secret facial cleanser to anyone who wants to even out their skin tone, get rid of blackheads, dark knuckles, acne scars, blemishes, melasma, sunburns and dark spots.
You can also try rdl baby face cleanser, peau de lune cleanser or skin doctor toner as alternative.
White Secret Facial Cleanser Ingredients:
Propylene Glycol, Water, Chamomilla Recutita Flower Extract, Humulus Lupulus (Hops) Extract, Fragrance, Alcohol, Glycerin, Triclosan, PPG-1-PEG-9 Lauryl Glycol Ether, Sodium Sulfite, Sodium Metabisulfite, Allantion, Collagene, Zinc Oxide, Citric Acid, Tocopheryl Acetate (Vitamin E), UVA, UBV, FD&C Pigments.
White Secret Facial Toner Side Effects:
It doesn't have any side effects.
White Secret Facial Toner Benefits:
1: It clears pimples
2: It clears sunburns
3: It wipe away makeup
Is White Secret a Bleaching Cleanser?
No, it is not a bleaching cleanser.
Does White Secret Facial Cleanser Contain Hydroquinone?
No, it doesn't contain hydroquinone.
How Good Is White Secret Facial Toner:
It is a good cleanser that will get rid of your skin problems and also even out your complexion.
How To Use White Secret Facial Cleanser:
Apply the cleanser on a cotton wool and gently clean your face with it. Let it dry on your skin before applying some moisturizer afterwards.
White Secret Facial Cleanser Price In Nigeria:
It cost N2300 in markets and cosmetics shops.
Where To Buy White Secret Facial Cleanser:
You can buy the original cleanser online from trusted vendors either on Jumia or on Konga.
Watch & Subscribe To Our YouTube Channel: