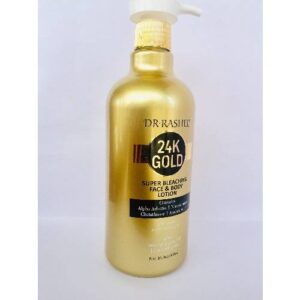 24k Gold Cream is a lotion that gently moisturize the skin and give the skin the perfect outlook. In the world of skincare, gold-infused products have gained significant popularity due to their luxurious appeal and potential benefits for the skin. This cream is not an exception.
The cream is also enriched with some beneficial ingredients like hyaluronic acid, peptides, and botanical extracts, offering a potent concoction for skin nourishment. Many users praise the cream for its exceptional hydrating properties.
The presence of hyaluronic acid and other moisturizing agents helps to replenish the skin's moisture barrier, leaving it plump, supple, and refreshed. Regular use of the cream improve the skin's texture and promot youthful complexion.
The gold particles or flakes in the cream can create a subtle light-reflecting effect, making the skin appear more vibrant and illuminated. Reviewers frequently mention the luxurious feel of the cream upon application to the skin.
The cream is often described as lightweight and easily absorbed, without leaving any greasy residue behind. Users have expressed satisfaction with the cream's ability to deliver on its promises, such as improving skin radiance.
There was a friend of mine who had always taken great pride in taking care of her skin and she was always on the lookout for the perfect skincare products to enhance her beauty.
She has used countless cream, but none of all those products live up to her expectations. One fateful afternoon we decided to hangout with some few other friends. We chatted, took some pictures, then one of the ladies asked my friend out of concern about the cream she is using.
My friend told the lady that she has used countless skincare product but she still get lots of unwanted reactions including pimples on her skin. The girl asked her if she has heard of 24k gold cream and my friend mouthed a no.
I also took interest in their discussion. The lady told my friend to give the cream a trail. On our way home we branched at a store and bought the cream. Days went by and we incorporated the cream into our daily skincare routine.
We applied it every morning and night, gently massaging it into the skin. Initially, we were unsure of what to expect, but as the days turned into weeks, we noticed a remarkable change.
My complexion seemed to glow with radiance, and the fine lines around my eyes appeared diminished. The cream had a light, luxurious texture and absorbed quickly into the skin.
It was as if the cream was breathing new life into her tired skin. She was so overwhelmed she loved her current skin. I was so happy about our skin. Our other friends complimented our skin.
I highly recommend 24k gold cream to everyone who wants to maintain their natural complexion and make it glow. It will repair and restore your damaged skin and it is very moisturizing as well.
You can also try zero spot lotion, gold beauty lotion or caro fresh lotion as an alternative.
24K Gold Cream Ingredients:
Cetearyl Alcohol, Water, Glycerine, Ethylhexyl Palmitate, Propylene Glycol, Cetearyl Glucoside, Sodium Hyaluronate, Soluble Collagen, Fregrance, Carbomer, Hydroxyethyl Acrylate/Acryloyldimethyl, Taurate Copolymer, Butyrospermum Parkii (Shea) Butter, Gold, Dimethicone, Xanthan Gum, Ethyhexyglycerin, Tocopheryl Acetate, Phenoxyethanol.
24K Gold Cream Benefits:
1: It softens the skin
2: It lightens the skin
3: It smoothens the skin
4: It makes the skin more radiant
24K Gold Cream Side Effects:
It doesn't have any side effects.
Is 24K Gold Cream a Bleaching Cream?
Yes, it is a bleaching cream.
Does 24K Gold Cream Contain Hydroquinone?
No, it doesn't contain hydroquinone.
How Good Is 24K Gold Cream:
It is a really good lotion that would clear your skin and make your complexion very beautiful.
How To Use 24K Gold Cream:
Pump out some amount of the cream on your palm and gently massage it all over your body until it is completely absorbed into your skin.
24k Gold Cream Price In Nigeria:
It cost N2000 in markets and cosmetics shops.
Where To Buy 24K Gold Cream:
You can buy the original lotion online from trusted vendors either on Jumia or on Konga.