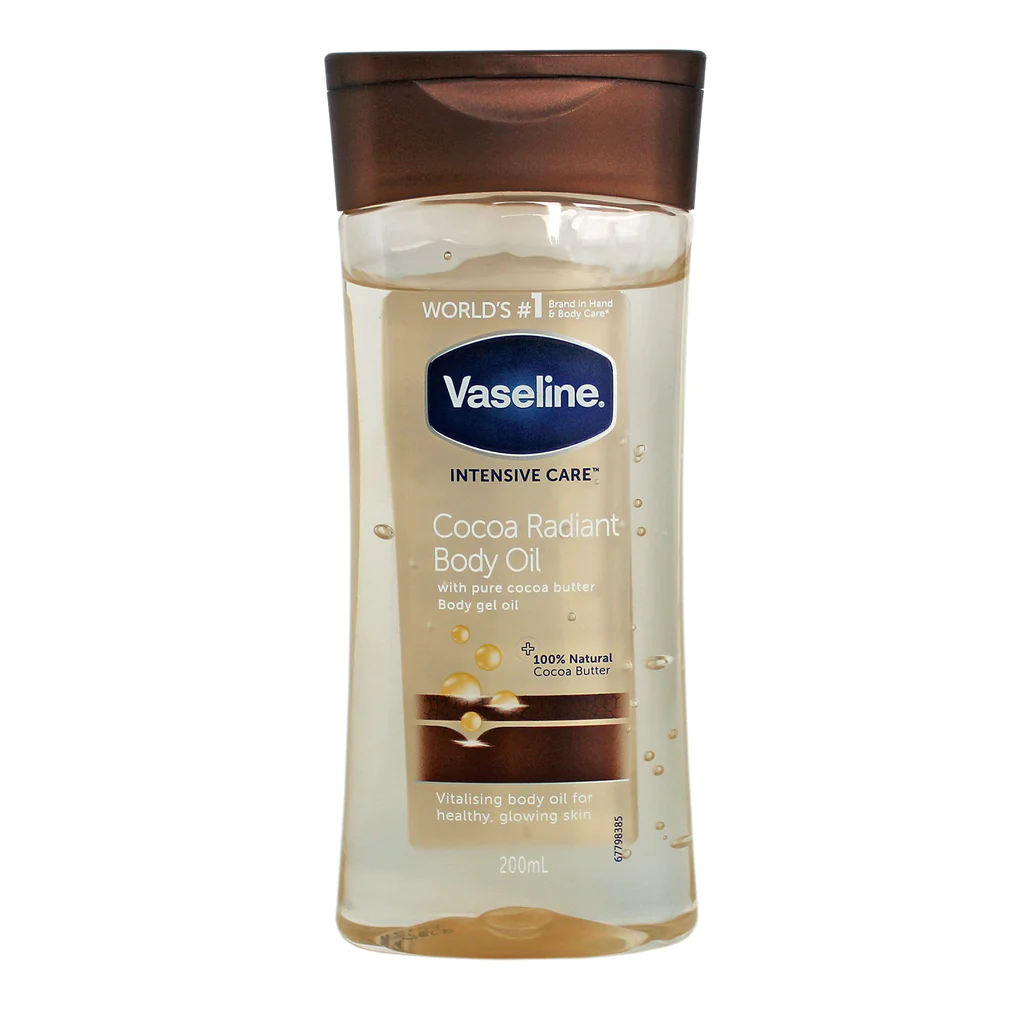 Vaseline Cocoa Butter Oil is made with cocoa butter and a mixture of vaseline jelly to keep your skin youthful looking and healthy. It gives you a smoother, nourished and hydrated skin.
You will have a natural shine all thanks to its pure cocoa butter and shea butter composition. It contains a blend of nutritious ingredients that  replenishes the vital moistures your skin needs and gives the skin a luminous and healthy glow.
This intensive care oil helps dry skin get a deep conditioning. This body oil gel has moisturizing vaseline jelly microdroplets that enhances fast healing. It contains ingredients that leaves your skin looking radiant, very beautiful and healthy.
Our skin natural moisture barrier do deteriorate with everyday exposure to environmental stress and sunlight, thereby causing water to escape the body and make our skin dehydrated always.
This oil retains moisture to help rehydrate the skin and rejuvenate it from being dry and dull looking to glowing and flawlessly beautiful.
A friend of mine can not stop gushing over this product. She first came across this oil two years ago when she went for a short holiday break. She bought two for herself while coming back.
This lady was practically glowing when she came back to school. Her skin complexion stood out and I could not help but admire her. So, I got one for myself to try it out personally.
After I finished the first bottle, I got two at once because I am already convinced of the doings of this oil. My biggest flex was how it smoothened my skin plus making me smell like chocolate.
I highly recommend vaseline cocoa butter oil to everyone whether you are dark, chocolate, fair or white skin in complexion. This serum will greatly moisturise, soften and smoothen out your skin.
You can also try shenic perfect legs serum, bio oil or skin free milk serum as an alternative.
Vaseline Cocoa Butter Oil Ingredients:
Theobroma Cacao (Cocoa) seed Butter, Hydrogenated Styrene/Butadiene Copolymer, Mineral Oil and Fragrance.
Vaseline Cocoa Butter Side Effects:
It doesn't have any side effects.
Vaseline Cocoa Radiant Oil Benefits:
1: It hydrates the skin
2: It nourishes the skin
3: It smoothens the skin
4: It moisturises the skin
5: It gets rid of dry and dull skin
Is Vaseline Cocoa Butter Oil a Bleaching Oil?
No, it is not a bleaching oil.
Does Vaseline Cocoa Butter Oil Contains Hydroquinone?
No, it doesn't contain hydroquinone.
How Good Is Vaseline Cocoa Butter Oil:
It is a very good serum that moisturises the skin well without leaving any greasy residue behind.
How To Use Vaseline Cocoa Butter:
You can either massage the oil into your skin until it is fully absorbed or mix it into your lotion.
Vaseline Cocoa Butter Oil Price in Nigeria:
It cost N5100 in markets and cosmetics shops.
Where To Buy Vaseline Cocoa Butter:
You can buy the original serum online from trusted vendors either on Jumia or on Konga.
Watch & Subscribe To Our YouTube Channel: