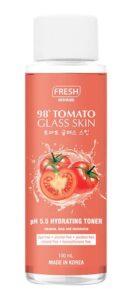 Tomato Glass Skin Toner is a facial cleanser that eliminates extra grime, residues of oil, and makeup. It was made in Korea and has been making waves globally due to its effectiveness.
The advantages include; balancing your skin pH, deep cleansing and pore-tightening, and making your skin smoother, whiter, and appearing firmer, whilst giving you a healthy glowing appearance.
This hydrating toner now contains TheraGlass complex, a unique solution for skin brightening that contains Vitamin C and Hyaluronic Acid.
This toner preserves your skin natural pH level, helps remove embedded grime and any traces of makeup, and leaving your skin with a smooth, luminous and soft sheen after each application.
It is a high-end skincare product that clears acne, heals sunburn, tightens pores, soothes inflammation, and balances pH. This calming toner contains 20% tomato extract, which helps to make your skin healthier and problems free.
There are several advantages of using tomato toner on your face, including removing dead skin cells, preventing acne, tightening skin, promoting a radiant complexion, curing sunburn, reducing oiliness, and clearing wrinkles from your skin.
Include this toner in your routine if you have dry, dull skin. It contains lycopene, which serves to make your skin appear more radiant and healthy. The natural astringent properties of tomatoes assist to tighten your skin and reduce big pores, leaving behind firmer, and radiant complexion.
It moisturizes the skin without greasiness due to the tomato and pomegranate extractions in it that keeps drained and worn-out skin very moist, whilst giving you a youthful and a vibrant skin.
It clears dark spots and works wonderfully to brighten the skin for an even skin tone. It heals damaged skin and also calms the skin, aids in reducing excessive oil production, and helps to eliminate blemishes, and treats skin redness.
A neighbor of mine uses this skin toner. Initially, I did not know the secret behind her ever young shiny skin. She is in her forties but she looks more like a 25 years old flawless slaying queen.
When she celebrated her 40th birthday last month, I was shocked because I initially thought that she is way younger than that because she has a glowing baby face that is very attractive.
She laughed when I complimented her beauty and went ahead to tell me that, when there is money and the right skincare routine, anyone can be aging backward. She mentioned the skincare products she uses and among them was this tomato skin toner she emphasized on.
After what she said; I decided to try the product and see for myself and I must say; I am beyond impressed with my face. This facial cleanser has been a really big game changer for my facials.
I highly recommend tomato glass skin toner to everyone with rough skin, pimples, discoloration and dull skin. It is very effective in removing dirt and deep cleansing your skin without drying it.
You can also try skin doctor toner, santarde face cleanser or bismid facial cleanser as alternative.
Tomato Glass Skin Toner Ingredients:
Water, Xanthan Gum, Propylene Glycol, Glycerin, Niacinamide, Methyl Gluceth-20, PEG-60 Hydrogenated Castor Oil, Trehalose, Allantoin, Sodium Hyaluronate, Chlorphenesin, Fragrance, Citric Acid, Betaine, Tocopheryl Acetate, Panthenol, Disodium EDTA, and Ascorbic Acid.
Tomato Skin Toner Side Effects:
It doesn't have any side effects.
Tomato Skin Toner Benefits:
1: It removes pimples
2: It whitens the skin complexion
3: It softens and smoothens the skin
4: It gives a glowing skin complexion
Is Tomato Glass Skin a Bleaching Toner?
No, it is not a bleaching toner.
Does Tomato Glass Skin Toner Contain Hydroquinone?
No, it doesn't contain hydroquinone.
How Good Is Tomato Glass Skin Toner:
It is a very good toner that moisturises the skin and gives it a healthy glow without drying it out.
How To Use Tomato Glass Skin Toner:
Apply with a cotton wool on your face and neck two times a day for cleansing and moisturizing.
Tomato Glass Skin Toner Price In Nigeria:
It cost N10000 in markets and cosmetics shops.
Where To Buy Tomato Glass Skin Toner:
You can buy the original toner online from trusted vendors either on Jumia or on Konga.
Watch & Subscribe To Our YouTube Channel: