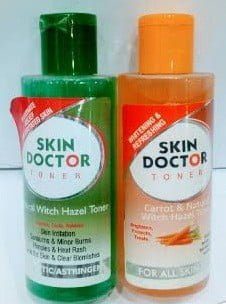 Skin Doctor Toner is one of the most effective cleanser that relieves irritated skin, clears heat rashes, hyperpigmentation, blemishes, sunburns, acne scars, melasma, freckles and blackheads.
This facial cleanser comes in a container with a dispensable cap that allows you to easily apply it on a cotton wool.. It also has a scratch panel at the back of it for you to confirm if it is original.
It deep cleanses your skin and leaves it feeling smooth, fresh and renewed. It does a good job in blending your skin complexion. It makes your skin very clear, even tone, luminous and radiant.
This cleanser unclog pores and removes dull and dead skin cells. It removes deep seated dirts, impurities and excess oil from your skin, leaving you feeling squeaky clean and refreshed.
I have used skin doctor cleanser for over a month now and I think it is a good product. It soothes my skin, closes my skin pores and makes my face glow. It has worked for all my blackheads, whiteheads and blemishes so far.
I highly recommend skin doctor facial cleanser to anyone who wants to tone their complexion, relieve irritated skin, clear heat rashes, acne, blemishes, sunburns, blackheads and pimples.
Skin doctor lotion and skin doctor soap are also very good products from this same company.
Skin Doctor Toner Ingredients:
Allantoin, Glyceryl Cocoate, Glycol Distearate, Pentylene Glycol, Propylene Glycol, Glycerin, PEG-7, Lactic Acid, Sodium Chloride, Sodium Lactate, Sodium Laureth Sulfate, Propylparaben, Urea, Diazolidinyl Urea, Serine, Sorbitol, Water, Polyquaternium-7, Methylparaben, Avocado Oil, Triethanolamine, Persea Gratissima, Butylphenyl Methylpropional, Cocamidopropyl Betaine, Disodium Cocoamphodiacetate, Parfum, Cocamidopropyl Hydroxysultaine.
Side Effects Of Skin Doctor Cleanser:
It doesn't have any side effects.
How Good Is Skin Doctor Toner:
It is a really good face toner and cleanser that will properly even out your skin complexion.
How To Use Skin Doctor Toner:
Apply it on a cotton wool and clean your face. Let it dry before applying your moisturizer.
Skin Doctor Toner Price In Nigeria:
It cost N1650 in markets and cosmetics shops.
Where To Buy Skin Doctor Cleanser:
You can buy the original cleanser online from trusted vendors either on Jumia or on Konga.
Watch & Subscribe To Our YouTube Channel: