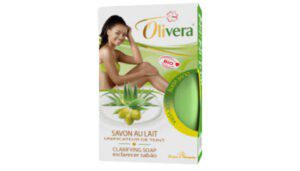 Olivera Clarifying Soap is the ultimate solution for achieving clear, smooth, and radiant skin. With its unique blend of natural ingredients and powerful clarifying properties, this soap is revolutionizing the way we care for our skin.
What sets the soap apart from other skincare products is its carefully crafted formula. It is enriched with a potent combination of botanical extracts, vitamins, and minerals that work synergistically to address skin challenges.
It is known for its excellent detoxifying properties, activated charcoal draws out impurities and toxins from the skin, helping to unclog pores and reduce the occurrence of breakouts. It also absorbs excess oil, leaving your skin refreshed and also very balanced.
Renowned for its antimicrobial and anti-inflammatory properties, tea tree oil helps combat acne-causing bacteria and soothes irritated skin. It assists in reducing redness and inflammation, promoting a clearer complexion.
It has an essential nutrient for skin health, diminishes the appearance of dark spots and hyperpigmentation, and boosts collagen production for firmer, youthful-looking skin.
Unlike many commercial soaps that contain harsh chemicals and artificial additives, this soap is made of natural and organic ingredients. It is free from sulfates, and synthetic fragrances, making it a safe and gentle choice for everyone.
One day a man came to my place of work at a cosmetic store. He asked after my boss. When my boss arrived he told her to give him the best skin soap for his fianceé. He said they were getting married in few weeks. He wanted his bride to look flawless during their wedding.
My boss told him to olivera soap to give to his bride. She said the the soap will perform magic on the bride's skin. The man collected the soap with smiles all over his face and left the store.
Weeks later, the man came with a lady which he later introduced as his wife. She was looking so beautiful. Her skin was looking smooth and booming. I couldn't take my eyes off her. The man looked so happy. He thanked my boss for introducing the wonderful soap to him.
I highly recommend olivera clarifying soap to everyone who is battling with unending skin problems. This soap will gently get rid of all your skin problems and maintain your complexion.
You can also try cottage fresh soap, yori yori soap, sanitol soap or dettol as an alternative.
Olivera Clarifying Soap Ingredients:
Aloe Vera Gel, Tea Tree Oil, Shea Butter, Glycerin, Soap Noodles, Olive Oil, Light Liquid paraffin, Argon Oil, Vitamin E.
Olivera Clarifying Soap Side Effects:
It doesn't have any side effects.
Olivera Clarifying Soap Benefits:
1:It reduce wrinkles
2:It improve skin elasticity
3:It help restore skin damages
4:It make the skin looks more radiant
Is Olivera Clarifying a Bleaching Soap?
No, it is not a bleaching soap.

Does Olivera Soap Contain Hydroquinone?
No, it doesn't contain hydroquinone.
How Good Is Olivera Clarifying Soap:
It is a good soap that will get rid of your skin problems and also brighten your complexion.
How To Use Olivera Clarifying  Soap:
Rub the soap with water on your palm to form bubbles and apply on wet face. Massage the lather gently and rinse off. Clean your face with a towel and apply some moisturizer afterwards.
Olivera Clarifying Soap Price In Nigeria:
It cost N700 in markets and cosmetics shops.
To Buy Olivera Clarifying Soap:
You can buy the original soap online from trusted vendors either on Jumia or on Konga.