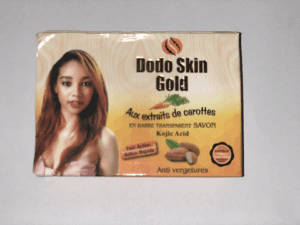 Dodo Skin Gold Soap is commonly known for its unique blend of nourishing ingredients and the added luxury of gold. This soap promises to deliver a transformative experience on the skin.
This soap comes in an elegant and sleek packaging, reflecting the luxurious nature of the product. The soap is beautifully crafted, with a rich, golden hue that instantly catches the eye. 
One of the standout features of this soap is its unique formulation. Infused with real gold particles, this soap offers more than just a cleansing experience. Gold is known for its anti-inflammatory and antioxidant properties, which can help soothe and as well rejuvenate the skin.
When it comes to cleansing, this soap excels. It lathers up nicely and effectively removes dirt, excess oil, and impurities from the skin, leaving it feeling refreshed and clean. Even after rinsing the soap off, your skin will feel supple and moisturized, without any tightness or dryness.
One of the most sought-after benefits of the soap is its potential to enhance skin radiance and brightness. The gold particles in the soap are believed to stimulate collagen production, which promote a more youthful complexion.
Whether you have dry, oily, or sensitive skin, this soap is formulated to be gentle and suitable for all skin types. It is free from all harsh chemicals and also artificial fragrances, making it a safe option for those with sensitive skin or allergies.
There is this friend of my sister's who came to stay with us for some days because her wedding was in a couple of weeks. My sister was helping her with her wedding preparations. One fateful morning, she woke up with big reddish pimples.
She looked sad. She said the reaction was as a result of a particular lotion she bought on her way to our place. My sister went out with her and when they came back, they came back with this soap saying an aboki man owing a cosmetic shop recommneded it telling her it will suit her.
The aboki man gave her an assurance that her flawless skin will be restored before her wedding. I told her the aboki man only said so to her because he was eager to sell his soap. Nevertheless, she decided to give the soap a try. She didn't really put her full trust on the soap.
She left our place the following day after buying almost everything she needed for her wedding. Two days to the wedding, my sister and I traveled to her place for the wedding and I was shocked to see her skin looking more radiant.
I was more than surprised. I asked her what product she used and she smiled and told me she only used the soap and other dodo skin gold products. She said she has finally gotten her ideal soap and she will never stop using it.
I highly recommend this dodo skin gold soap to anyone who wants something that will peel off all their dead skin and thoroughly exfoliate their whole body. It looks ordinary but it really works.
You can also try cottage fresh soap, yori yori soap, sanitol soap or dettol as an alternative.
Dodo Skin Gold Soap Ingredients:
Vitamin E, Demineralized Water, Jojoba oil, Hydroxide Acid Alpha, Petrolatum, Mineral Oil, Kojic Acid, Isopropyl myristate, UV Protection, Wheat Germ oil, Ascorbic Acid (Vitamin C), Sodium Sulfite, Triethanolamine, Fragrance.
Dodo Skin Gold Soap Side Effects:
It doesn't have any side effects.
Dodo Skin Gold Soap Benefits:
1: It reduce wrinkles
2: It improve skin elasticity
3: It help restore skin damages
4: It make the skin looks more radiant
Is Dodo Skin Gold a Bleaching Soap?
No, it is not a bleaching soap.
Does Dodo Skin Gold Soap Contain Hydroquinone?
No, it doesn't contain hydroquinone.
How Good Is Dodo Skin Soap:
It is a really good soap that would clear your skin and make your complexion very radiant.
How To Use Dodo Skin Gold Soap:
Rub the soap with water on your palm to form bubbles and apply on wet face. Massage the lather gently and rinse off. Clean your face with a towel and apply some moisturizer afterwards.
Dodo Skin Gold Price In Nigeria:
It cost N900 in markets and cosmetics shops.
Where To Buy Dodo Skin Gold Soaps:
You can buy the original soap online from trusted vendors either on Jumia or on Konga.