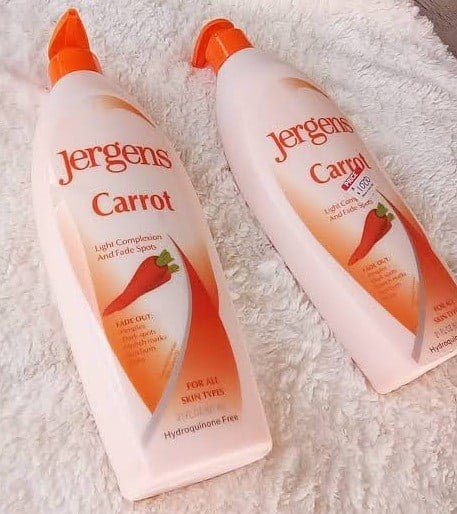 Jergens Carrot Body Lotion is a very good skin lightening cream that prevents any tanning and pigmentation. It brightens the skin and reduces the appearance of any dark spots on your body.
It is enriched with ingredients that improves the skin complexion, elasticity and texture. It deeply penetrates into the skin layers to heal dryness from the source. This lotion quickly absorbs into your skin and locks in moisture for a long time.
It diminishes the signs of aging and makes your skin glow radiantly. It clears acne scars, stretch marks, white patches, melasma, all blackheads, freckles, sunburns and blemishes from the body.
It also repairs, restores, nourishes and deeply moisturises your skin to reveal a visibly healthier, softer and smoother skin. Jergens carrot lotion refreshes, revitalizes and replenishes your skin for a refreshed, rejuvenated and renewed body.
I came across this lotion when I went to buy some products in a cosmetics shop. The large container of the lotion is what drew my attention to it while I was pricing the hair conditioner, hair shampoo and weave I went there to purchase.
I asked the seller to pass me the jergens carrot lightening lotion and he handed it over to me. I looked at the container carefully and asked him if truly it lightens and fades spots as it is written.
The seller replied yes and told me how all his customers who buys the cream keeps coming back to repurchase. He said none of them has ever complained of the lotion giving side effects.
He told me that this is the last one he has in stock and I may not come back to meet it here because it is usually scarce in the market and it may still take some time before he restocks it.
The seller was later able to convince me to buy the jergens carrot lightening lotion even though I didn't plan to buy a cream that day. But then, am grateful because I didn't regret purchasing at all.
Jergens carrot lightening lotion did reduce the appearance of dark spots I had on my body due to mosquito bites and pimples breakout on my body. It also lightened and brightened my skin.
It is a good cream that does what is written on it; "Lightens complexion and fade spots". It clears your skin and makes it even tone. It comes in a big 621ml container that lasted me for a month.
This cream is cheap considering the size and the fact that it is effective. Your skin will thank you for using jergens carrot lotion because it really works and is suitable for every skin type.
You can also try paw paw lotion, final body lotion or vaseline intensive care lotion as alternative.
Jergens Lightening Lotion Ingredients:
Water, Carrot Extract, Stearic Acid, Glycerine, Propylene Glycol, Vitamin A, Vitamin C, Vitamin E, Vitamin B5, Antioxidants and Fragrance.
Jergens Body Lotion Side Effects:
It doesn't have any side effects.
Is Jergens Carrot a Bleaching Cream?
No, it is not a bleaching cream.
Does Jergens Carrot Contain Hydroquinone?
No, it doesn't contain hydroquinone.
How Good Is Jergens Carrot Lotion:
It is a really good cream that maintains your skin and evens out your skin complexion uniformly.
How To Use Jergens Body Lotion:
Pump out some amount of the lotion on your palm and gently massage it all over your body until it is all completely absorbed into your skin.
How Much Is Jergens Carrot Cream In Nigeria:
It cost N1200 in markets and cosmetics shops.
Where To Buy Jergens Body Lotion:
You can buy the original cream online from trusted vendors either on Jumia or on Konga.
Watch & Subscribe To Our YouTube Channel: