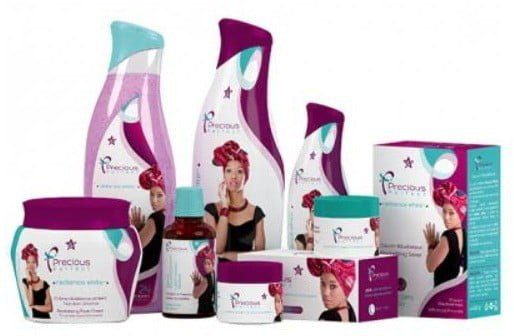 Precious Perfect Body Lotion is a very strong lightening cream that works fast in brightening and whitening the skin tone. It also provides all long lasting moisture and radiance to your body.
It is a deep conditioning moisturiser for dry skin. This body lotion is also an effective formula that reduces the appearance of wrinkles, blemishes, melasma and also enhances your skin's texture.
This cream is formulated with very powerful ingredients that prevents excessive of melanin production resulting in a brighter skin tone and gives you a luminous and glowing complexion.
It unifies, clarifies, boost and promotes the skin regeneration and rejuvenation with its powerful exfoliating properties that restores the skin and makes it smooth, supple, radiant and beautiful.
The only downside of this lotion is that it doesn't clear dark spots from the body but rather makes it more visible while lightening your skin tone. It is not good for dark or chocolate skin people. It will bleach your skin and give you discoloration.
I highly recommend precious perfect body lotion for fair skin people who wants to make their skin more lighter, brighter or wants to whiten up their skin complexion in a very short period of time.
You can also try perfect white lotion, perfect glow lotion or piment doux cream as alternative.
Precious Perfect Cream Ingredients:
Water, Plant Extract, Kojic Acid, Citric Acid, Stearic Acid, AHA, IPM, Glycerin, White Oil, Petroleum Jelly, Stearylic Alcohol, Propylene Glycol, Sodium Metabisulfite and Fragrance.
Precious Perfect Cream Side Effects:
• It gives some people green veins
• It gives some people stretch marks
Is Precious Perfect Cream a Bleaching Cream?
No, it is not a bleaching cream.
Does Precious Perfect Contain Hydroquinone?
No, it doesn't contain hydroquinone.
How Good Is Precious Perfect Lotion:
It is a good cream that will lighten, brighten, whiten and make your complexion glowing.
How To Use Precious Perfect Lotion:
Pump out some amount of the lotion on your palm and gently massage it all over your body until it is all completely absorbed into your skin.
How Much Is Precious Perfect Cream In Nigeria:
It cost N650 in markets and cosmetics shops.
Where To Buy Precious Perfect Lotion:
You can buy the original cream online from trusted vendors either on Jumia or on Konga.
Watch & Subscribe To Our YouTube Channel: