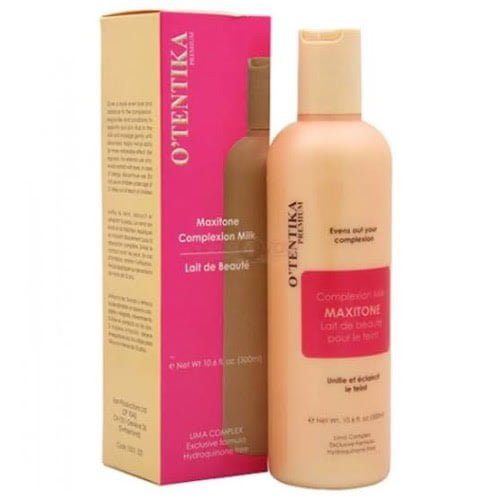 Otentika Cream is a toning lotion that helps to remove black spots and uneven skin tone while brightening the whole complexion. It gives you a glowing, uniform and flawless skin complexion.
This cream contains elements that decreases melanin synthesis and brightens the skin for a lovely even tone. It is formulated to improve the skin and its brightness while ensuring hydration.
It leaves your skin firm and smoother with no greasy residues. This cream makes your skin glows after being soothed and toned. It contains ingredients that inhibits the melanin production.
As a result, less melanin leads to a lighter skin. A lovely way to brighten and level out your skin tone. This cream prevents skin darkening and also aids you in the rebalancing of pigmentation.
I found out about otentika cream when a girl at a beauty salon explicitly advised me to buy it. She claims she tried it on herself to get rid of certain skin discolorations and it worked perfectly well.
I believe my complexion was quite normal, so I wasn't really bothered about what it would do for me. Anyway I bought it after other customers hyped it as well and this is my honest review.
The first few days of using otentika cream didn't seem to make much of a difference, except that the texture of the cream was a little bit strange, as it was hard and odorless at the same time.
However, after a week, I observed firmness and smoothness in my skin. I had a few black spots on my face that was very little like an illusion but still visible until otentika made them disappear.
My skin felt softer and smoother in texture after using otentika cream for a while, but there was no major lightening and brightening effect. The result became visible after prolonged use of it.
I highly recommend otentika soap and lotion to anyone who wants to gradually tone their skin without making it obvious. It really works in fading discoloration and dark spots on the body.
You can also try ht26 lotion, dove cream or vaseline intensive care as an alternative.
Otentika Lotion Ingredients:
Deionized Water, Cetearyl Alcohol, Isopropyl Palmitate, Tocopheryl acetate, Mineral Oil, Silicone, Glycerin, Carbomer, Coconut Oil, Liquid Gemel Plus, Shea Butter, Vitamins, Fragrance.
Otentika Cream Side Effects:
It does not have any side effects.
Is Otentika Cream a Bleaching Cream?
No, it is not a bleaching cream.
Does Otentika Cream Contains Hydroquinone?
No, it doesn't contain hydroquinone.
How Good Is Otentika Cream:
It is a really good body cream that will ensure your skin complexion is evened and beautiful.
How To Use Otentika Lotion:
Pump out some amount of the lotion on your palm and gently massage it all over your body until it is all completely absorbed into your skin.
Otentika Lotion Price In Nigeria:
It cost N6100 in markets and cosmetics shops.
Where To Buy Otentika Lotion:
You can buy the original cream online from trusted vendors either on Jumia or on Konga.
Watch & Subscribe To Our YouTube Channel: