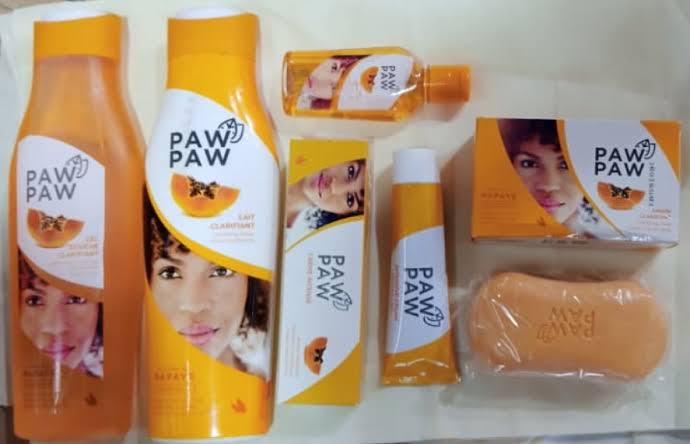 Paw Paw Clarifying Lotion is a maintenance cream that brightens up your skin complexion and makes it look beautiful. It provides day long lasting moisture and radiance to the whole body.
This cream also fights against free radicals and gives you a uniform complexion. It is a product of Dreams Cosmetics company, the makers of the popular bleaching cream called caro white.
It also prevents excessive melanin production resulting in a brighter skin tone. It also clears dark spots and fades discoloration. It makes your skin clear, youthful looking and luminous.
It contains natural ingredients that are effective in toning and removing patches from your skin. Paw paw clarifying lotion clears scars, wrinkles, blemishes, melasma, sunburns and all freckles.
This cream is gentle on the skin and it unifies, clarifies and promotes skin rejuvenation with strong skin lightening complex that restores the skin and makes it smooth, radiant and beautiful.
I highly recommend paw paw clarifying lotion to anyone who wants to maintain their skin tone and brighten up their complexion. It is not a bleaching cream but it will even out your skin and give you a uniform and glowing complexion.
You can also try nivea natural fairness cream or vaseline intensive body lotion as an alternative.
Paw Paw Clarifying Cream Ingredients:
Water, Papaya Extract, Kojic Acid, Citric Acid, Stearic Acid, AHA, IPM, Glycerin, White Oil, Petroleum Jelly, Stearylic Alcohol, Propylene Glycol, Sodium Metabisulfite and Fragrance.
Paw Paw Cream Side Effects:
1: It makes some people sweat
2: It gives some people green veins
3: It gives some people white spots
4: It gives some people dark knuckles
Is Paw Paw Cream a Bleaching Cream?
No, it is not a bleaching cream.
Does Paw Paw Lotion Contain Hydroquinone?
No, it doesn't contain hydroquinone.
How Good Is Paw Paw Cream:
It is a really good cream that would clear your skin and make your complexion very beautiful.
How To Use Paw Paw Cream:
Pump out some amount of the lotion on your palm and gently massage it all over your body until it is all completely absorbed into your skin.
Paw Paw Clarifying Lotion Price In Nigeria:
It cost N1500 in markets and cosmetics shops.
Where To Buy Paw Paw Cream:
You can buy the original cream online from trusted vendors either on Jumia or on Konga.
Watch & Subscribe To Our YouTube Channel: