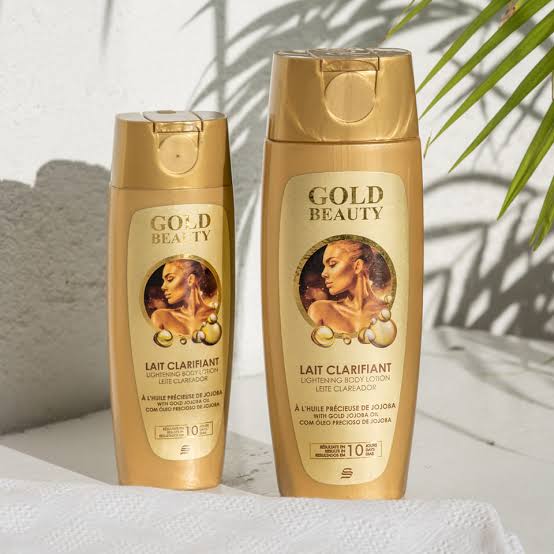 Gold Beauty Lotion is a very potent whitening cream that is good in clearing discoloration, lightening stretch marks and getting rid of dark feet, knuckles, elbows and knees in a short time.
This lotion is formulated with gold jojoba oil. It has firming ingredients with anti-aging effect that moisturizes, clarifies and unifies your skin. It also softens and smoothens your body well.
I hardly use a particular cream twice because I am always trying out different products for the sake of reviewing which is good and also bad at the same time because some damages my skin.
But the thing is; since I am already a skin care expert, I immediately know when to stop and exactly how to get rid of whatever the product in question gave me as side effects in a short time.
So people hardly notice any problem with my skin because of how cautious I am when dealing with bleaching products which must have one or more side effects to give in return for the shine.
So on this particular day, I didn't have any cream in mind before going to the supermarket. My intention was to just look around and buy whatever catches my eyes which was what I did.
After walking to the cosmetics section, I just looked around and saw this gold container looking cream called gold beauty and I took it from the shelf and went through its write up.
Caro fresh lotion also caught my attention because I have heard of it but have never tried it before. So I got the both of them and pears baby oil, with vitamin c serum and hair food before heading to get some provisions afterwards.
When I got home, I decided to start with the gold beauty cream and it was a thrilling experience because I didn't expect the result I got from using it one day in and one day out because of the warning on the lotion container that says "Use of the product should not exceed 15 days. Let the skin rest 2 weeks between each routine".
This cream is one of the strongest bleaching creams I have ever used. It works very fast and what amazed me the most is that, it lightened my feet which is the most stubborn part of my body to pure white within just two weeks of use.
No part of the body is too hard for gold beauty lotion to work on. I noticed it even lightened my dark knuckles, elbows, knees and most of all, my hard to bleach feet to Egyptian white more than any other part of my body when I was using it.
My skin was so light, flawless and glowing that anywhere I go, people would be calling me half-caste, asking me where I came from, this and that. My new name became yellow and albino and I was enjoying the attention until my mom advised me to stop using the bleaching cream.
She said my skin has become too light and if I mistakenly get any injury now, it will be very hard for it to heal and it will eventually take a long time for the wound to go. So I thought about it and decided to stop after the first container.
But I am really happy about the results because it lasted for over a month while I was just using pears baby oil to moisturize and get my skin back to normal. I won't be able to forget gold beauty in a hurry because of what it did for me.
I highly recommend gold beauty lotion to anyone who is looking for a fast bleaching cream that would make you look flawless and beautiful. This cream works like magic in clearing dark feet, knuckles, elbows and knees fast and you don't even have to use it everyday to see result.
You can also try elixir cream, precious perfect, carotone cream or skin doctor as an alternative.
Gold Beauty Lotion Ingredients:
De-ionized Water, Jojoba Oil, Emulsifying Wax, Cetyl Alcohol, Mineral Oil, Sorbitol, Carbomer, Paraffin Wax, Preservative, Carrot Extract, Tocopheryl Acetate, Vitamin E and Fragrance.
Gold Beauty Cream Side Effects:
• It makes the skin thin
• It makes the palm and foot red
• It gives some people green veins
Gold Beauty Lotion Benefits:
• It whitens the skin
• It clears dark feet
• It clears dark knees
• It clears dark elbows
• It clears dark knuckles
• It clears discoloration
Is Gold Beauty a Bleaching Cream?
Yes, it is a bleaching cream.
Does Gold Beauty Contain Hydroquinone?
No, it doesn't contain hydroquinone.
How Good Is Gold Beauty Lotion:
It is a really good cream that would clear your skin and make your complexion very beautiful.
How To Use Gold Beauty Lotion:
Pump out some amount of the lotion on your palm and gently massage it all over your body until it is completely absorbed into your skin.
Gold Beauty Cream Price In Nigeria:
It cost N1500 in markets and cosmetics shops.
Where To Buy Gold Beauty Cream:
You can buy the original cream online from trusted vendors either on Jumia or on Konga.
Watch & Subscribe To Our YouTube Channel: