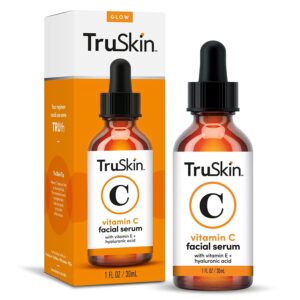 TruSkin Vitamin C Serum is a very good face gel that gives you a youthful glowing appearance that is flawless and beautiful. The brightening and balancing effects of this oil serum also enhances the general wellbeing of your skin.
Daily use of this serum will make you love and admire your skin because it smoothens, softens and unifies your skin complexion within a short period of time and doesn't give you side effects.
This serum is very soothing when applied to the skin. It melts into the skin pretty quickly, leaving your skin looking luminous, radiant and brighter. It is an anti-aging gel that evens out your skin.
It has been confirm to improve radiance, lessen dark spots, and lessen the appearance of fine lines and wrinkles. This serum also relieves all forms of inflammation, redness and itchiness.
There is this handsome neighbor of mine who recently moved into our compound. He is always looking good and it is obvious he has a skincare routine from the appearance of his radiant skin.
I just jokingly asked him what he uses for his face and he said it is TruSkin. I was surprised that guys are now competing with us to the extent of even using good serums nowadays.
As the skincare products experiment general that I am; I got the serum the next time I went out and I tried it out to find out for myself if it is worth recommending or writing about and it is.
I highly recommend truskin vitamin c serum to everyone whether you are dark, chocolate, fair or white skin in complexion. This serum will greatly moisturise, soften and smoothen out your skin.
You can also try goji berry serum, gluta white serum or clinic clear serum as an alternative.
TruSkin Vitamin C Serum Ingredients:
Water, Aloe, Gotu Kola, Equisetum Arvense (Horsetail), Dandelion, Geranium, Organic Aloe Barbadensis Leaf (Aloe), Sodium Ascorbyl Phosphate (Vitamin C), Phenoxyethanol, MSM (Methylsulfonylmethane), Botanical Hyaluronic Acid, Witch Hazel (Hamamelis Virginiana), Vitamin E (D-Alpha Tocopheryl Acetate), Kosher Vegetable Glycerol, Carbomer, (2S)-2-Amino-5-Guanidinopentanoic Acid, Ethyl Hexyl Glycerine.
TruSkin Vitamin C Gel Side Effects:
It doesn't have any side effects
TruSkin Vitamin C Serum Benefits:
1: It softens the skin
2: It fades away dark spots
3: It boost the brightness of the skin
4: Lessen the appearance of wrinkles
Is TruSkin Vitamin C a Bleaching Serum?
No, it is not a bleaching serum.
Does TruSkin Vitamin C Contain Hydroquinone?
No, it doesn't contain hydroquinone.
How Good Is TruSkin Vitamin C Serum?
It is a very good serum that would clear your face and make your complexion very beautiful.
How To Use TruSkin Vitamin C Gel:
You can massage the serum gently into your skin until fully absorbed or mix it into your lotion.
TruSkin Vitamin C Serum Price In Nigeria:
It cost ₦9,100 in markets and cosmetics shops.
Where To Buy TruSkin Vitamin C Gel:
You can buy the original serum from trusted vendors online either on Jumia or on Konga.
Watch & Subscribe To Our YouTube Channel: