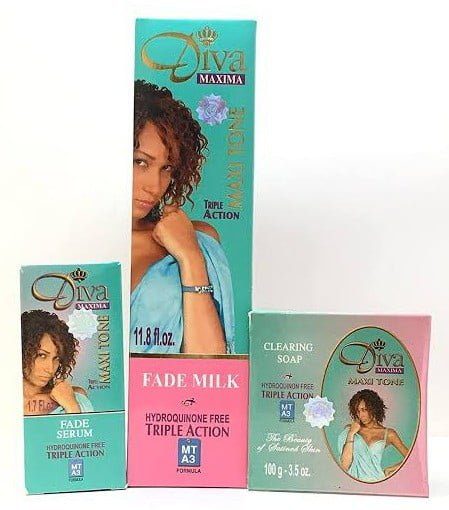 Diva Maxima Maxi Tone Cream is a fade milk lotion that is formulated with effective clarifying treatment ingredients and antioxidants to even out your skin and brighten up your complexion.
I personally used this cream for 2 months and it didn't lighten my skin but restored my damaged skin because I was suffering from discoloration which was caused by a bleaching cream I used.
But I have two friends who used diva maxi tone and it lightened their skin within 1 to 2 weeks. One is dark and the other is chocolate while I am light skin. Anyway, it is drying for some people.
This cream will evenly clear, firm and smoothen your skin. It is lightweight and non-greasy and it fortifies your skin from deep within to retain its elasticity and makes it resistant to pollutants.
It nourishes the skin, makes it glow, youthful looking and prevents your skin from premature aging and darkening. It preserves, protects and soothes the skin making it healthy and uniform.
I highly recommend this cream with diva maxi tone soap if you want to quickly lighten your skin, clear discoloration and even out your complexion. It really works within a short time.
You can also try g&g cream, serial white gold cream or carrot glow cream as an alternative.
Diva Maxi Tone Cream Ingredients:
Water, Mineral oil, Petroleum, Lanolin, Stearic Acid, Cetyl-Stearylic Alcohol, Isopropyl Myristate, Tocopheryl Acetate, BHT, Methyl-Paraben, Propylparaben, Sodium Lauryl Sulfate, Sodium, Metabisulfite, Sodium Sulfite, Citric Acid, Propylene Glycol, Alpha-Hydroxy Acid, Allantoin, Lecithin, Cholesterol, Ascorbic Acid, Fragrance.
Diva Maxi Tone Lotion Side Effects:
1: It gives some people rashes
2: It gives some people pimples
3: It gives some people sunburn
4: It gives some people stretch marks
5: It gives some people dark knuckles
Is Diva Maxi Tone a Bleaching Cream?
Yes, it is a bleaching cream.
Does Diva Maxi Tone Contain Hydroquinone?
No, it doesn't contain hydroquinone.
How Good Is Diva Maxi Tone Cream:
It is a good cream that quickly lightens, and clarifies your skin complexion in a short period of time.
How To Use Diva Maxi Tone Lotion:
Pump out some amount of the lotion on your palm and gently massage it all over your body until it is all completely absorbed into your skin.
Diva Maxi Tone Lotion Price In Nigeria:
It cost N1000 in markets and cosmetics shops.
Where To Buy Diva Maxi Tone:
You can buy the original cream online from trusted vendors either on Jumia or on Konga.
Watch & Subscribe To Our YouTube Channel: