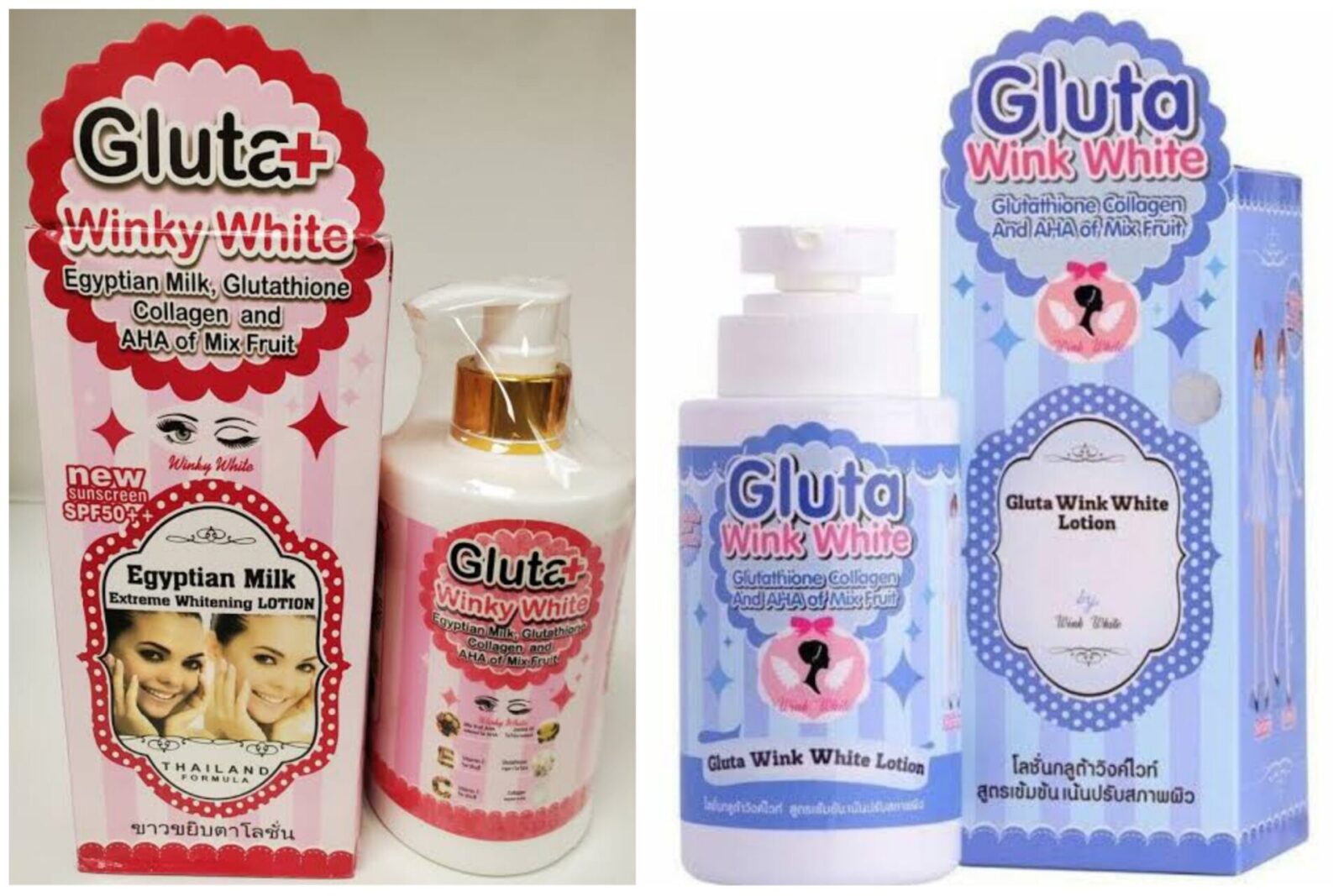 Gluta Wink White Lotion is a skin lightening and brightening milk cream made in Thailand. It is formulated with effective natural ingredients to give maximum treatment and protection to skin.
It is specially designed to be mild on the body and it has a nice smell. This lotion is enriched with different multivitamins that nourishes, refreshes, smoothens and softens your skin.
This cream contains mild ingredients that are effective in toning the skin naturally. It clears acne scars, dark spots, wrinkles, blackheads, blemishes, sunburns, melasma and freckles.
Anyone can use gluta wink white body lotion to maintain their skin complexion. This cream is suitable for all skin types and colors. It can be used by either a dark, chocolate or fair person.
This lotion moisturises, clarifies and promotes skin regeneration and rejuvenation with its skin brightening complex that restores the skin and makes it look very young, radiant and beautiful.
I highly recommend gluta wink white cream to anyone who wants to maintain their skin tone naturally. It lightens up your skin gradually and gives you a glowing uniform skin complexion.
You can also try gluta white lotion, extract lotion, gluta c lotion or pure carrot gold as alternative.
Gluta Wink White Lotion Ingredients:
Distilled Water, Glutathione, Collagen, Mix Fruit, Vitamin-C, Vitamin-E, Jojoba Oil, Shea Butter, Isopropyl Myristate, Polyetheenc Glycol, Glycerin, Glydent (DMDM Hydantion), Lycium Barbarum Fruit Extract and Fragrance.
Gluta Wink White Cream Side Effects:
It doesn't have any side effects.
Is Gluta Wink White a Bleaching Cream?
No, it is not a bleaching cream.
Does Gluta Wink White Contain Hydroquinone?
No, it doesn't contain hydroquinone.
How Good Is Gluta Wink White Lotion:
It is a good cream that will maintain your skin, brightens and also evens out your complexion.
How To Use Gluta Wink White Cream:
Pump out some amount of the lotion on your palm and gently massage it all over your body until it is all completely absorbed into your skin.
Gluta Wink White Lotion Price In Nigeria:
It cost N3000 in markets and cosmetics shops.
Where To Buy Gluta Wink White:
You can buy the original cream online from trusted vendors either on Jumia or on konga.
Watch & Subscribe To Our YouTube Channel: