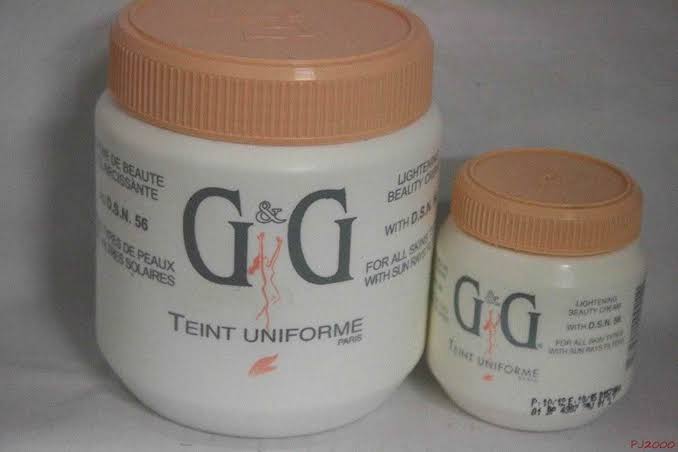 G&G Cream is a skin lightening body lotion that is formulated with natural ingredients suitable for dark and chocolate skin people who wants to lighten their skin and tone up their complexion.
This cream brightens hard to lighten places like the knees, elbows, toes, ankle and knuckles. It is enriched with natural oils and plant extracts that aids in moisturizing and nourishing of your skin.
It also exfoliates the skin and only consists of natural skin lightening ingredients. This cream is suitable for all skin types and works tirelessly to hydrate, nourish and reduces dullness on skin.
This cream contains a stable of derivative that softens the skin. It is a moisturizing treatment that can be used to smoothen and improve your skin texture. It enhances the appearance of skin.
It easily sinks into the skin and doesn't leave any oily residue nor does it clog the pores. It dries up fairly quickly and doesn't feel sticky afterwards. It also layers well with serums and tube creams.
I highly recommend this G&G cream to anyone who wants to lighten and brighten up their skin naturally and gradually. It really works with time and it is suitable for every skin type and color.
You can also try beauty essence lotion, dove intensive cream or venus cream as alternative.
G&G Cream Ingredients:
Water, Kojic Acid, Stearyl Alcohol, Cetyl Alcohol, Petrolatum, Mineral Oil, Bearberry Extract, BHT, 1% Octylmethoxycinnamate, Cyclomethicone, A.H.A (Citric, Glycolic, Lactic, Malic, Salicylic, Tartaric Acids), Isopropyl Myristate, Glycerin, Sodium Metabisulfite, Jojoba Oil, Wheat Gem Oil, Propylparaben, Methylparaben, Tocopheryl Acetate, 0.5% Butylmethoxydlbenzoylmethane, 3% D.S.N.56, Polysorbate 60 and Fragrance.
G&G Lightening Cream Side Effects:
It may cause rash or irritation at the initial use.
It could burn the skin when used without sunscreen.
Sometimes it can lead to skin peeling.
Is G&G a Bleaching Cream?
No, it is not a bleaching cream.
Does G&G Contain Hydroquinone?
No, it doesn't contain hydroquinone.
How Good Is G&G Cream:
It is a good cream that moisturises, nourishes and lightens your skin and makes it glowing.
How To Use G&G Cream:
Pump out a sufficient amount of this cream on your palm. Then, smoothly massage the cream all over your body until fully absorbed. Reapply when your skin feels dry. Apply at least twice a day for the best result. Do not apply this cream and expose yourself to direct sunlight or fire.
G&G Cream Price In Nigeria:
It cost N2500 in markets and cosmetics shops.
Where To Buy G&G Lotion:
You can buy the original cream online from trusted vendors either on Jumia or on Konga.
Watch & Subscribe To Our YouTube Channel: