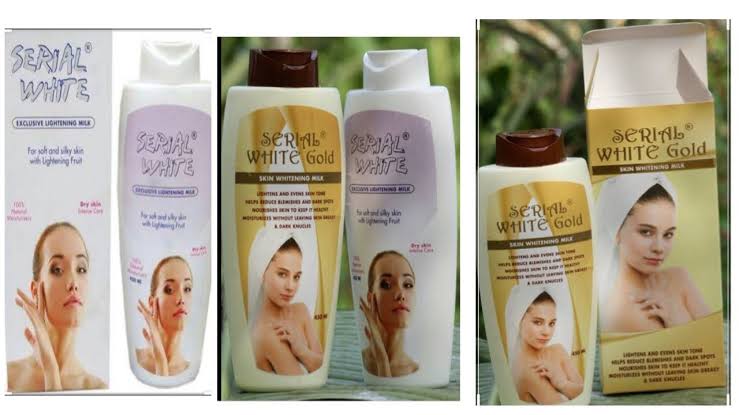 Serial White Gold Cream is a good maintenance lotion specifically formulated for all complexion and doesn't have any side effects on the body and is suitable for every skin types and colors.
It is a great moisturiser that enhances your skin natural radiance. It reduces the appearance of blemishes, melasma, freckles and inhibits the production of excessive melanin on your body.
It clarifies and promotes skin rejuvenation with skin brightening complex that restores the skin and makes it smooth, silky, soft and beautiful. This cream brightens and unifies the skin tone.
It also inhibits melanin production and fades discoloration. This cream makes your skin clear and youthful looking. It brightens dull skin and also reduces sebum production on the surface of the skin to give you a healthy and firm skin.
Because of the name serial white and the image on the pack, many people just assumes it is a bleaching cream and gets disappointed after using it because they thought it would whiten their skin or bleach their complexion but it didn't.
What you should know is that; serial white gold cream doesn't lighten or bleach the skin tone. It will only even out your skin and brighten up your complexion. This cream is meant to moisturise, smoothen and maintain your skin complexion.
If you want to bleach your skin, you should try pure white gold cream or clear therapy cream.
Serial White Gold Cream Ingredients:
Water, Stearic Acid, Vitamin E, Vitamin B3, Glycol Stearate, Dimethicone, Petrolatum Paki, Saffron, Cetyl Alcohol, Titanium, Dioxide, Methylparaben, Propylparaben and Fragrance.
Serial White Gold Cream Side Effects:
It doesn't have any side effects.
Serial White Lotion Benefits:
1: It hydrates the skin
2: It moisturizes the skin
3: It evens out the skin tone
4: It makes the skin healthy
5: It makes the skin look radiant
Is Serial White Gold a Bleaching Cream?
No, it is not a bleaching cream.
Does Serial White Gold Contain Hydroquinone?
No, it doesn't contain hydroquinone.
How Good Is Serial White Gold Lotion:
It is a very good cream that is mild on the body, brighten up and evens out your skin complexion.
How To Use Serial White Cream:
Pump out some amount of the lotion on your palm and gently massage it all over your body until it is completely absorbed into your skin.
Serial White Cream Price In Nigeria:
It cost N1500 in markets and cosmetics shops.
Where To Buy Serial White Lotion:
You can buy the original cream online on Jumia.
Watch & Subscribe To Our YouTube Channel: