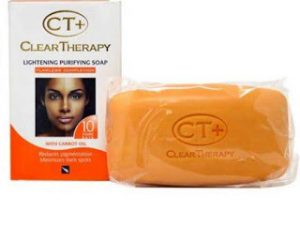 CT+ Plus Clear Therapy Soap is a skin lightening and brightening soap with plant extracts and fruit acids that removes acne scars, dark spots, blemishes, freckles and melasma from the body.
It has a rich lather and nice fragrance. This soap is enriched with lightening therapy that removes dirts, impurities and excess oil from the skin. It also leaves your body refreshed and nourished.
Ct+ soap eliminates rough skin with ease and removes dead cells to reveal a healthy, smooth, soft and youthful glowing skin underneath. It makes your skin fairer, clearer and even tone.
It is specially designed for any discoloration problem, this skin lightening product targets pigmentation spots, patches and any wrinkles caused by aging, sun damage and pregnancy.
This soap is quite potent and very effective in lightening the skin, clearing blemishes, freckles and dark spots. It also smoothens the skin and leaves your body feeling so refreshed after bath.
Clear therapy lightening purifying soap is a good bath soap that lightens the skin especially tough areas like the knuckles, knees, elbows and dark underarms. It is very suitable for all skin types.
You can also try clinic clear soap, veet gold soap or rdl papaya whitening soap as alternative.
Ct+ Plus Soap Ingredients:
Coconut Oil, Palm Oil, Carrot Oil, Glycerin, Aqua, Sodium Hydroxide, Ascorbic Acid, Vitamin E and Fragrance.
Clear Therapy Soap Side Effects:
It doesn't have any side effects.
Ct+ Plus Soap Benefits:
1: It lightens the skin
2: It brightens the skin
3: It evens the skin tone
4: It exfoliates the skin
5: It repairs scarred tissues
6: It eliminates blemishes
Does Ct+ Plus Soap Contain Hydroquinone?
No, it doesn't contain hydroquinone.
Does Clear Therapy Soap Bleach?
No, it doesn't bleach the skin complexion.
Is Clear Therapy Soap Good?
Yes, it is a good soap that will get rid of your skin problems and even out your complexion.
How To Use Clear Therapy Soap:
Rub the soap with water on your palm to form bubbles and apply on wet face. Massage the lather gently and rinse it off. Dry your face and then apply some good moisturizer afterwards.
Ct+ Plus Soap Price In Nigeria:
It cost N500 in markets and cosmetics shops.
Where To Buy Ct+ Soap:
You can buy the original soap online from trusted vendors either on Jumia or on Konga.
Watch & Subscribe To Our YouTube Channel: