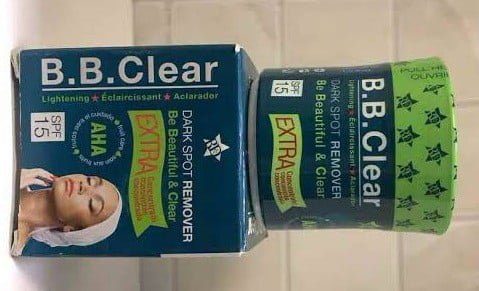 BB Clear Face Cream is specially designed to fade away dark spots and lighten your skin tone. It gives you a youthful looking, glowing, smooth, luminous, supple and flawlessly beautiful skin.
This face cream contains SPF15 in it to protect you from sun damage. It is made by the RODIS TOGO brand. The complete set comes with the lotion, soap, oil, serum and this spot corrector.
It is lightweight, non-sticky or greasy and makes the skin lighter, soft, radiant and satin-smooth. This cream will give you a spot-free, flawless, clearer and uniform glowing skin complexion.
This cream erases discolorations and improves your skin elasticity. It refreshes and revives the skin tone and texture. It also makes your skin fairer by reducing the production of melanin.
BB clear facial cream does not remove pimples. So if you already have pimples or acne, you treat them separately first and then use this cream to remove the scars left behind after they are gone.
This face cream is really good for white or fair skin people with relatively dry or normal skin but it is very problematic for people with sensitive or oily skin. It sometimes gives them side effects.
I highly recommend bb clear face cream for people whose intention is to lighten their face. It really works within a short period of time, if you use it consistently and also with caution.
Bb clear soap and bb clear body lotion are also really good products from this same company.
BB Clear Face Cream Ingredients:
AHA, Collagen, Fruits Extracts, Fragrance.
BB Clear Face Cream Side Effects:
1: It gives some people pimples
2: It gives some people sunburns
3: It gives some people dark circles under eyes
Benefits Of BB Clear Facial Cream:
1: It lightens the skin
2: It brightens the skin
3: It clears dark spots
4: It reduces dark knuckles
5: It treats hyperpigmentation
Is BB Clear Facial Cream a Bleaching Cream?
No, it is not a bleaching cream.
Does BB Clear Contain Hydroquinone?
No, it doesn't contain hydroquinone.
Is BB Clear Facial Cream Good?
Yes, it is a good face cream that will get rid of your dark spots and also lighten your skin tone.
How To Use BB Clear Facial Cream:
Take some of the cream and gently massage it into your skin until it is completely absorbed.
How To Know Original BB Clear Face Cream:
This face cream is pure white in colour and the consistency is medium. It comes in a small box and the container is sealed with a leather that is wrapped around the cover. So do not buy it, if it is not properly sealed or if the cover is broken.
If the color of the cream is anything other than white; then know that it is either fake or expired.
How Much Is BB Clear Face Cream In Nigeria:
It cost ₦700 in markets and cosmetics shops.
Where To Buy BB Clear Cream:
You can buy the original cream online from trusted vendors either on Jumia or on Konga.
Watch & Subscribe To Our YouTube Channel: