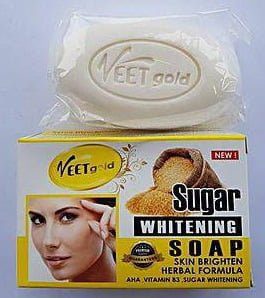 Veet Gold Sugar Whitening Soap is a special formula enriched with antioxidants and herbal extracts to exfoliate dead skin cells from your body and reveal the healthy skin underneath.
It contains sugar, a natural humectant that draws moisture into the skin. It penetrates the skin pores and breaks down the glue that bonds skin cells together, thereby promoting skin cell renewer for a fresher and younger looking skin.
This soap is an active soap that dries off the pimples, sucks the oil and makes your face look young, radiant and fresh. This soap is enriched with natural fairness ingredients to make your skin evenly toned, fairer, lighter, and refreshed.
It is a treatment soap that exfoliates to remove dull lifeless skin and reveal the fresh and healthy skin underneath. It has SPF protection to block out damaging sun rays from affecting your skin.
This soap clears dark spots, sunburns, wrinkles, blackheads, acne, pimples, blemishes, freckles, discoloration and brown pigmentation to give you a fairer skin tone and uniform complexion.
Regular use of veet gold sugar whitening soap will smoothen, soften and whiten your skin tone, making it glow and shine naturally. It is a good bathing soap that is suitable for all skin types.
Veet gold cleanser and veet gold face cream are also good products from this same company.
Veet Gold Sugar Whitening Soap Ingredients:
Sodium Palmate, Sodium Cocoate, Sodium Chloride, Titanium Dioxide, Etidronic Acid, Glycerin, Tretrasodium EDTA and Fragrance.
Veet Gold Side Effects:
It doesn't have any side effects.
Does Veet Gold Soap Bleach?
No, it doesn't bleach the skin complexion.
How Good Is Veet Gold Soap:
It is a really good bath soap that will lighten, brighten and even out your skin complexion.
How To Use Veet Face Soap:
Rub the soap with water on your palm and apply the lather on wet face. Massage gently and rinse off. Dry your face and apply some moisturizer.
Veet Gold Whitening Soap Price In Nigeria:
It cost N800 in markets and cosmetics shops.
Where To Buy Veet Whitening Soap:
You can buy the original soap from trusted vendors online either on Jumia or on Konga.
Watch & Subscribe To Our YouTube Channel: