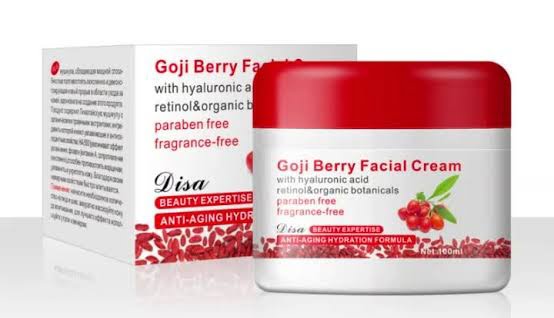 Goji Berry Facial Cream is a good fragrance-free moisturizer specially made with hyaluronic acid and retinol. It protects' hydrates, nourishes and revitalizes your skin to make it soft and smooth.
It moisturizes the skin, evens out the skin tone, brightens any spots and fades discoloration, and smoothens the surface of the skin and ensures appropriate and healthy face skincare routine.
I personally found out about this goji berry facial cream from my neighbor who recently packed into our compound. This woman was discussing with my mother and she mentioned her age.
I was stunned when I heard her say she is 50 years old. I couldn't believe my ears because this woman looks like someone in her late 30s and nothing close to the age she just mentioned.
Since, it is considered disrespect in my place to interrupt elders when they are talking, I decided to keep the interview I have in mind until she is alone before I can start a conversation with her.
Luckily, one Saturday morning she was doing her laundry all alone and my mother has gone for a wedding ceremony. So I greeted her and we got talking and I asked about her skincare routine.
She laughed hard and told me my mother has already warned her to watch out for me, that I'll definitely come to disturb her for skincare advice and reviews on products she has used before.
I told her not to mind my mother who actually thinks my obsession with beauty is something to be worried about. She told me, she wish her own children are like me because she is always scolding them to look after their body properly.
She now told me to feel free to ask her whatever I want to know. That she will be very happy to share her knowledge with me because just like me she has been obsessed with beauty ever since she was a teenager and she understands.
I now told her she has a baby face and I couldn't believe it when I heard her telling my mother her age. She said yes, that goji berry facial cream is responsible for her youthful and flawless face.
She told me she has been using this face cream for 10 years now and she doesn't have any plans of switching to another product again because it does everything she needs for her facial skin.
She told me she has extremely sensitive skin and have been jumping from one cream to another until a friend recommended this face cream to her and she utterly loves it since then.
According to her; she had wrinkles when she started using goji berry facial cream but now there is no trace of any fine lines on her face. It also cleared her acne, sunburns and dark spots.
This moisturizer draws moisture into your skin. It is excellent for dry, sensitive and irritated skin. It also repairs and maintain moisture barrier. It is enriched with firming properties like anti-aging.
The texture of this goji cream is like butter and a small amount goes a long way. It is non-greasy and absorbs easily into the skin. Goji cream doesn't contain fragrance and is made without parabens which is a big plus for sensitive skin.
This face cream is fragrance free and does not irritate the skin, doesn't have an oily residue, and is good under makeup. It can be used as your daily moisturizer both in the morning and night.
I highly recommend goji berry facial cream for people with sensitive, dry, irritated or damaged skin. It repairs and restores your skin. It doesn't lighten your skin, so it is suitable for everybody.
You can also try k brothers face cream, bronze face cream or perfect face cream as alternative.
Goji Berry Facial Cream Ingredients:
Purified Water, Goji Berry Extract, Dimethicone, Vitamin A, Vitamin E, Grapeseed Oil, Evening Primrose Oil, Aloe Vera Leaf Juice, Isopropyl Myristate, Caprylic Triglycerides, Niacinamide, Glycerin, Cetearyl Olivate, Sorbitan Olivate, Cetyl Palmitate, Sorbitan Palmitate, Sorbitan Olivate, Stearyl Alcohol, Panthenol, Sodium Magnesium Silicate, Diazolidinyl Urea, Xanthan Gum, DMAE Bitrtate, Bisbolol, Iodopropynyl Butycarbamate.
Goji Berry Cream Side Effects:
It doesn't have any side effects.
Goji Berry Face Cream Benefits:
1: It clears acne
2: It clears wrinkles
3: It softens the skin
4: It clears sunburns
5: It clears dark spots
6: It combats dry skin
7: It soothes flaky skin
8: It smoothens the skin
9: It relieves irritated skin
10: It moisturises the skin
Is Goji Berry a Bleaching Cream?
No, it is not a bleaching cream.
Does Goji Berry Contain Hydroquinone?
No, it doesn't contain hydroquinone.
How Good Is Goji Berry Face Cream:
It is a good face cream that repairs, restores and evens out your skin for a beautiful complexion.
How To Use Goji Berry Face Cream:
Take some of the cream and gently massage it into your skin until it is all completely absorbed.
Goji Berry Face Cream Price In Nigeria:
It cost N3000 in markets and cosmetics shops.
Where To Buy Goji Berry Cream:
You can buy the original cream online from trusted vendors either on Jumia or on Konga.
Watch & Subscribe To Our YouTube Channel: