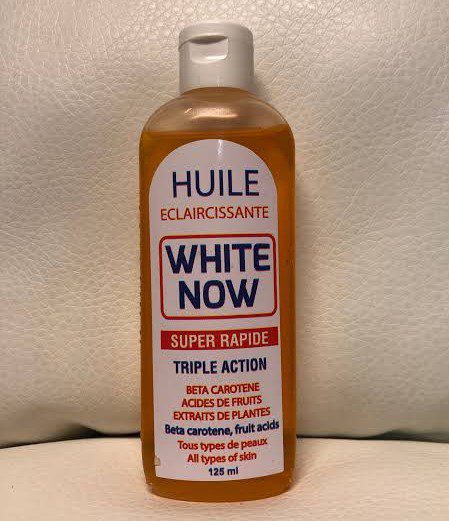 White Now Serum is a triple action and super rapid plant extracts and fruit acid based oil which is very good as an activator. It exfoliates and lightens your skin complexion in no time.
This serum clears dark spots, acne scars, pimples, dark knuckles, knees, feet and elbows. It also helps in removing skin discoloration. You can mix this oil into your body lotion to boost it.
It is a very strong whitening oil that gives a burning sensation when applied directly on your skin. So, it is advisable to mix it with your body lotion, soap or some other body serums or oils.
It is a fast action whitening oil that can lighten your skin up to three shades. So a dark skin person with no intentions of toning their skin complexion should not use this active serum.
Using the white now serum alone on your skin will burn your skin and most likely cause you sunburn, green veins, white patches, stretch marks, dark knuckles and also discoloration.
White now serum contains paraffin liquidum, so avoid this serum if you are allergic to paraffin. This oil can still be too strong to be used on a sensitive face, even after it has been mixed.
I highly recommend white now serum to people who wants to lighten their skin urgently for whatever reason. This oil serum really works fast in whitening your skin within a short time.
You can also try paw paw oil, maxi white serum or gluta c insta white serum as an alternative.
White Now Oil Ingredients;
Vitamin E, Plant Extracts, Water, Glycerin, Lanolin, Paraffin Liquidum and Beta Carotene.
White Now Oil Side Effects;
It doesn't have any side effects.
White Now Oil Benefits;
1: It clears acne scars
2: It gets rid of pimples
3: It lightens up the skin
4: It clears dark knuckles
5: It replenishes the skin complexion
Can White Now Oil Be Used On The Face?
No, it should not be used on the face.
Does White Now Oil Contain Hydroquinone?
No, it doesn't contain hydroquinone.
How Good Is White Now Oil:
It is one of the best whitening serums out there, no matter how stubborn and hard your skin is.
How To Use White Now Oil:
Apply the serum directly on your dark knuckles, elbows, knees, ankles and feet. If you want to use it on your whole body, make sure to mix with your cream. If you want to use it on your face, mix it with your face cream before applying it.
How To Know Original White Now Oil:
1: The original white now has their logo crested on top of the cover but the fake one doesn't.
2: The original has a nice fragrance while the fake white now serum doesn't have any smell.
3: The original gives a burning sensation when applied raw but the fake one feels just like water.
White Now Oil Price In Nigeria:
It cost N1500 in markets and cosmetics shops.
White Now Oil Price In Ghana:
It cost GH₵45 in markets and cosmetics shops.
Where To Buy White Now Oil:
You can buy the original cream online from trusted vendors either on Jumia or on Konga.
Watch & Subscribe To Our YouTube Channel: