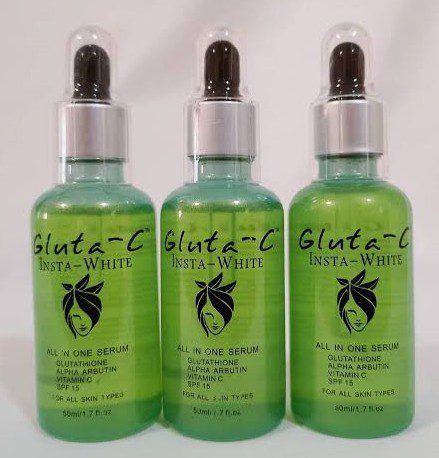 Gluta C Insta White Serum is a good brightening serum that gets rid of many skin problems such as dark spots, dark knuckles, acne scars, stretch marks, freckles, marks, sunburn and blemishes.
It is a glowing serum which makes your skin complexion unified and flawless. Even though the serum is said to be insta whitening, it doesn't work rapidly as you have imagined but gradually.
This serum lightens the skin and smoothens it out. It is better seen as a very good skin maintenance oil serum. Like; after you have gotten your desired shade of lightening, you can then adopt gluta c serum to maintain your skin.
It can be used for the face and for the body after mixing it. You can promix it with an essential oil or with any non-lightening lotion. This serum contains sun protection ingredients but it is still advisable to use it only at night before sleeping.
They are people who complain of having a burning sensation after applying the serum directly on their skin. Some skincare product formulators also incorporate this active serum into other products to boost their effectiveness.
This serum is actually very good and it does all the work that the manufacturer says it would do. I have recommended it to some of my clients while giving them proper directives on how to use it and so far, I have been getting only good reviews from majority of them that have used it.
I highly recommend gluta c insta white serum to people who just wants to maintain their natural color and make their skin glow radiantly. It really delivers when it comes to maintaining your skin.
You can also try white perfect vitamin c serum or dr rashel vitamin c serum as an alternative.
Gluta C Insta White Serum Ingredients;
Glutathione, Alpha Arbutin, Vitamin C, Glycerine.
Gluta C Insta Serum Side Effects;
It doesn't have any side effects.
Gluta C Insta White Serum Benefits;
1: It clears dark spots
2: It clears acne scars
3: It removes sunburn
4: It fades stretch marks
5: It gets rid of age spots
6: It unifies the skin and makes it glow
How Good Is Gluta C Insta Serum:
It is a very good oil serum that moisturises and nourishes your body for a healthy glowing skin.
How To Use Gluta C Insta Serum:
Apply the serum directly on your dark knuckles, elbows, knees, ankles and feet. If you want to use it on your whole body, make sure to mix with your cream. If you want to use it on your face, mix it with your face cream before applying it.
Gluta C Insta White Serum Price In Nigeria:
It cost N3500 in markets and cosmetics shops.
Where To Buy Gluta C Serum:
You can buy the original cream online from trusted vendors either on Jumia or on Konga.
Watch & Subscribe To Our YouTube Channel: