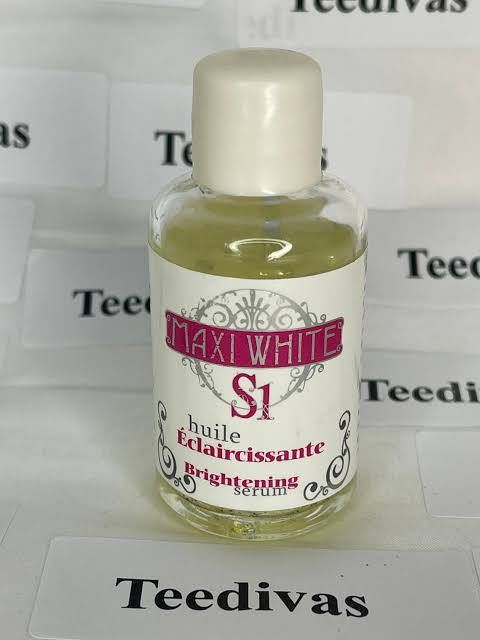 Maxi White Serum is a skin brightening oil made in France that lightens your skin fast. It has two different type of which contains either kojic acid or hydroquinone depending on the one you buy.
This serum clears dark spots, pimples, acne scars, blemishes, freckles, discoloration and other skin problems to give you a white pale skin complexion that looks so flawless and beautiful.
It evens out your skin complexion and gets rid of dark circles under the eyes, darker necks, dark knuckles, elbows, knees and feet, making your skin tone unified, smooth, youthful and radiant.
This serum is an active serum for boosting other skincare products effectiveness. It is very good for dull looking skin as it would brighten it up and make it look youthful, lively, fresh and clear.
Maxi white serum is of two types; One contains kojic acid and the other contains hydroquinone. Both are effective and you may get any of them according to your preference of a skin lightener.
In the process of working on your body, this serum may make your skin to start peeling off, thereby removing dead skin cells to bring forth a lighter new skin beneath that is clear and even.
It can be used for the face and body. This serum is suitable for fair and white skin people. A dark skin person who wants to lighten up can also use it but it would make your skin discolored.
Should be mixed into other oils or serums and into your face creams or body lotions. Most people who have used it, don't complain of it giving them any side effects on their body.
I highly recommend maxi white brightening serum to people who wants to whiten their skin complexion and make it radiant. This oil really works in giving you a pale looking complexion.
You can also try pure white gold serum, kojic whitening serum or skin free milk as alternative.
Maxi White Serum Ingredients;
Propylene Glycol, Kojic Acid/Hydroquinone, Sodium Sulfite, Sodium Metabisulfite, CI 19140, Citral, Limonene, Linalool and Fragrance.
Maxi White Serum Side Effects;
It doesn't have any side effects.
Maxi White Serum Benefits;
1: It clears dark spots
2: It unifies the skin tone
3: It gets rid of discoloration
4: It gets rid of dull looking skin
5: It brightens the skin complexion
Does Maxi White Serum Contain Hydroquinone?
Yes, one type of it contains hydroquinone while the other type of the serum contains kojic acid.
How Good Is Maxi White Oil:
It is one of the best whitening serums out there, no matter how stubborn and hard your skin is.
How To Use Maxi White Oil:
Apply the serum directly on your dark knuckles, elbows, knees, ankles and feet. If you want to use it on your whole body, make sure to mix with your cream. If you want to use it on your face, mix it with your face cream before applying it.
Maxi White Oil Price In Nigeria:
It cost N5000 in markets and cosmetics shops.
Where To Buy Maxi White Oil:
You can buy the original cream online from trusted vendors either on Jumia or on Konga.
Watch & Subscribe To Our YouTube Channel: