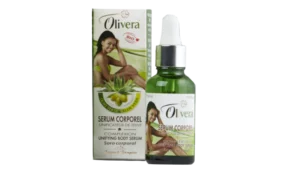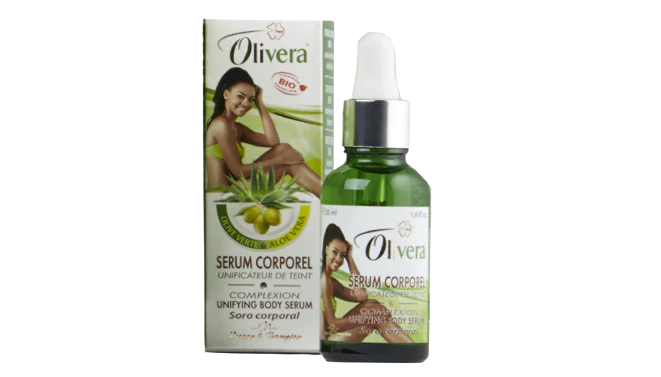 Olivera Clarifying Serum is a skincare oil specially formulated to target blemishes, help reduce the appearance of dark spots, and promote a healthier and more luminous complexion irrespective of your skin type.
Its concentrated formula combines active ingredients known for their clarifying and purifying properties, helping to unclog pores and reduce the occurrence of acne and blemishes. The active ingredients in the serum work in harmony to brighten and revitalize your skin.
Say goodbye to heavy, greasy formulas that weigh down your skin. This serum has a lightweight and fast-absorbing texture, allowing it to penetrate deeply into your skin without leaving any residue which is very amazing. 
This serum undergoes rigorous dermatological testing to ensure its safety and effectiveness. It is formulated without harmful ingredients such as parabens, sulfates, and artificial fragrances, making it suitable for all skin types and gender. 
After cleansing and toning your skin, simply apply a few drops of the serum to your face and neck, gently massaging it in until fully absorbed. With consistent use, you will notice the immediate effects of this serum on your skin.
A close friend of mine suffered from skin challenges after she clocked 19. She tried numerous skincare products but none seems to be effective. I became so concerned about her skin, because her face wasn't looking attractive.
So one day, we were both invited to a birthday party. And this birthday party was hosted by her crush. She quickly declined the invite. I asked her why she chose not to go when it is crystal clear she wants to attend the party at all cost.
She smiled and told me that she can't face her crush because of her rough face. The face actually got worst and I felt bad for her. The party was in five days time and I doubt any skincare product can cure her face before then.
On my way home from her place, I stopped at my favorite cosmetic shop and told the girl in charge to give me something that will perform magic on my friend's skin. The girl asked me to describe the skin condition of this my friend.
I took a deep breath and took my time in explaining her skin challenges in details. The girl gave me olivera serum and said it will work perfectly. I doubted the serum because it looked cheap unlike other expensive serums I know.
I told the shop attendant to give me something better but she insisted we try the serum. I bought the serum and gave it to my friend. My friend started using the serum and in the next three days, we were already seeing the result.
My friend was so excited and she finally decided to attend the birthday party. She thanked me for giving her such a precious gift. I was happy at the outcome because I doubted the serum.
I highly recommend olivera clarifying serum to people suffering from discoloration and dry skin. This serum is very effective and it beautifies, moisturises, softens and smoothen your skin.
You can also try roushun vitamin c serum, 6 drops serum or clinic clear serum as alternative.
Olivera Clarifying Serum Ingredients:
Salicylic Acid, Niacinamide, Licorice Root Extract, Arbutin,  Glutathione, Aloe Vera gel, Carrots, Lactic Acid, Fragrance, Water.
Olivera Clarifying Serum Side Effects:
It doesn't have any side effects.
Olivera Clarifying Serum Benefits:
1: It clears dark spots
2: It clears discoloration
3: It helps brighten the skin
4: It eliminates stretch marks
Is Olivera Clarifying a Bleaching Serum?
No, it is not a bleaching serum.
Does Olivera Clarifying Serum Contain Hydroquinone?
No, it doesn't contain hydroquinone.
How Good Is Olivera Clarifying Serum:
It is a very good serum that gets rid of skin problems and makes your skin very beautiful.
How To Use Olivera Clarifying Serum:
You can massage the serum gently into your skin until fully absorbed or mix it into your lotion.
Olivera Clarifying Serum Price In Nigeria:
It cost ₦800 in markets and cosmetics shops.
Where To Buy Olivera Clarifying Serum:
You can buy the original serum online from trusted vendors either on Jumia or on Konga.