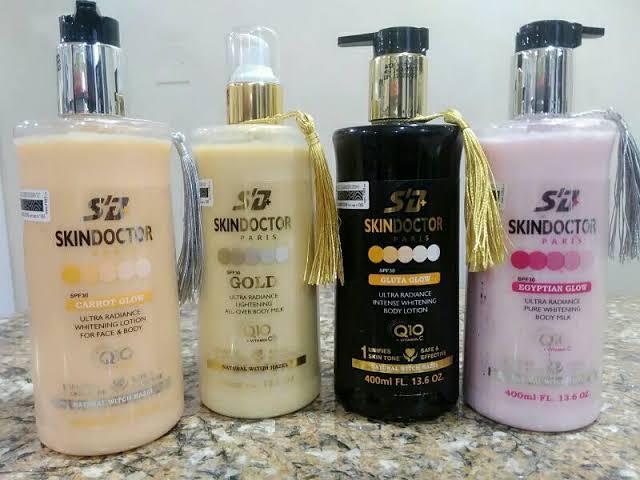 Skin Doctor Body Lotion is an intense whitening cream specially designed to deeply exfoliates, treats and eliminate freckles, blemishes, age spots, acne, scars, dark spots and sunburns to leave you with a clear, brighter and silky skin.
This lotion has a lightening and brightening effect on the face and body. It is made with UVA/UVB filters that protects the skin against sun damage. Skin Doctor is manufactured in Paris by Zandas Cosmetics Limited Company.
It is formulated with effective natural ingredients that works together to bring your skin immediate relief and long lasting moisturization. Thanks to its high level of betacarotene, the epidermis has a better protection against free radicals always.
Skin doctor lotion prevents excessive melanin production resulting in a brighter skin tone. Skin doctor body lotion also clears dark spots and fades discoloration. It makes your skin naturally healthy, youthful looking, shining and luminous.
This cream is gentle on the skin and it unifies, clarifies and promotes skin rejuvenation with strong skin lightening complex that restores the skin and makes it very refreshed and luxurious.
It smoothens and softens the skins. It clears sunburns, freckles, blemishes, brown spots, melasma and discoloration. This cream gives you a clear, radiant and beautiful complexion.
I highly recommend skin doctor body lotion because it is a good cream that works fast in lightening and brightening your skin. It will give you a glowing complexion within a short time.
Skin doctor soap and skin doctor toner are also very good products from this same company.
Skin Doctor Cream Ingredients:
Deionized Water, Glutathione, Witch Hazel, Carrot Oil, Kojic Dipalmitate, Arbutin, Vitamin C, Egyptian Milk, Licorice, Propylene Glycol, Stearic Acid, Cetearyl Alcohol and Fragrance.
Skin Doctor Lotion Side Effects:
It gives some people green veins
Types Of Skin Doctor Body Lotion:
They are four types of skin doctor lotion;
1: The Gold – This one is for people with dry skin. It is great for everyone during harmattan.
2: The Gluta Glow – This one is for people who wants to quickly lighten their skin complexion.
3: The Egyptian Glow – This one can be used by every skin color to maintain their complexion.
4: The Carrot Glow – This one is for fair people who wants to brighten up their skin complexion.
Is Skin Doctor a Bleaching Cream?
No, it is not a bleaching cream.
Does Skin Doctor Cream Contain Hydroquinone?
No, it doesn't contain hydroquinone.
How Good Is Skin Doctor Cream:
It is a good cream that lightens, brightens and gives you a glowing uniform skin complexion.
How To Use Skin Doctor Cream:
Pump out some amount of the lotion on your palm and gently massage it all over your body until it is completely absorbed into your skin.
Skin Doctor Lotion Price In Nigeria:
It cost N4000 in markets and cosmetics shops.
Where To Buy Skin Doctor Cream:
You can buy the original cream online from trusted vendors either on Jumia or on Konga.
Watch & Subscribe To Our YouTube Channel: