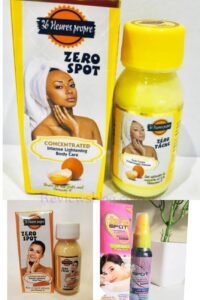 Zero Spot Serum is a cutting-edge skincare product designed to reduce the appearance of dark spots and scars. It contains a powerful blend of natural and organic ingredients that work together to deliver visibly good results.
The powerful ingredients in this serum are vitamin E and egg yolk. It Is specially made to clear, moisturize, and clean your skin of dirt and impurities. Thereby, giving you a pure fresh skin.
It combines active components with arbutin and glutathione antioxidant capabilities. It combats pigmentation issues, dark spots, brightens, and whitens the skin complexion within a short time.
Due to the presence of sun protection chemicals in it, it also works as a sun blocker. It will make your skin to become silky and blemish-free once it is done clearing your acne scars and pimples.
This serum is also made up of plant extracts with lightening characteristics together with white mulberry extract, which is known for its ability to effectively lighten up your skin fast.
My sister in-law is an active user of this serum. Before she came across the serum, she used to have this weird dark spots and pimples. She tried numerous serums but none worked until last year when she came across a lady that uses this serum. This lady in question is a dark lady while my sister in-law is very fair in complexion.
The dark lady recommended this serum to my sister in-law, but my sister in-law claimed that the serum is for dark people hence it won't work on her. The dark lady smiled and told her that the serum works for everybody irrespective of color.
My sister in-law decided to try out the serum; she bought it from the nearest cosmetic shop and started using it. She saw result in no time and then went back to thank the dark lady for introducing the serum to her. She told me about the serum and I thought to share her experience.
I highly recommend zero spot serum to anyone whose skin became dull looking for whatsoever reason, those with rough and uneven skin. It is suitable for every skin type, color and texture.
You can also try roushun vitamin c serum, 6 drops serum or clinic clear serum as alternative.
Zero Spot Serum Ingredients:
Egg yolk, Vitamin E, Argan Oil, Licorice, Kojic Acid, Glycolic Acid, Arbutin,  Glutathione, Aloe Vera gel, Carrots, Lactic Acid, Fragrance, Water.
Zero Spot Oil Side Effects:
It doesn't have any side effects.
Types Of Zero Spot Serum:
It has different types but the same functions.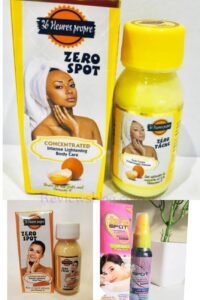 1: Zero spot intense lightening body care made with egg yoke
2: Zero spot intense lightening body care made with carrots
3: Zero spot clarifying whitening serum made with arbutin & glutathione
Zero Spot Oil Benefits:
1: It clears dark spots
2: It removes pimples
3: It brightens the complexion
4: It removes uneven skin tone
Is Zero Spot Oil a Bleaching Serum?
No, it is not a bleaching scrub.
Does Zero Spot Oil Contain Hydroquinone?
No, it doesn't contain hydroquinone.
How Good Is Zero Spot Serum:
It is a very good serum that would clear your skin and make your complexion very beautiful.
How To Use Zero Spot Serum:
You can massage the serum gently into your skin until fully absorbed or mix it into your lotion.
Zero Spot Serum Price In Nigeria:
It cost N2700 in markets and cosmetics shops.
Where To Buy Zero Spot Serum:
You can buy the original serum online from trusted vendors either on Jumia or on Konga.
Watch & Subscribe To Our YouTube Channel: