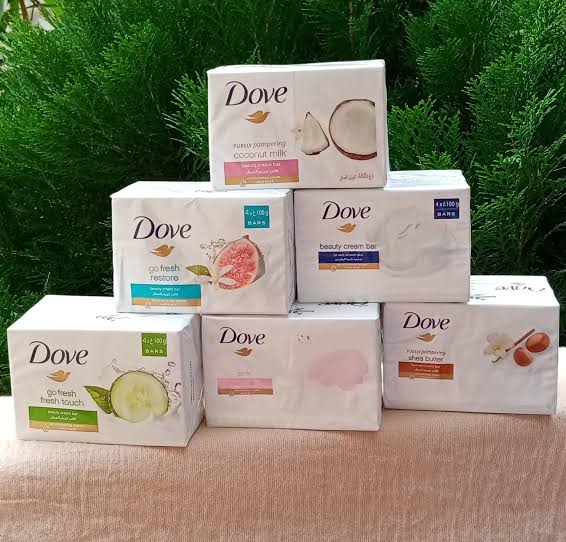 Dove Soap is a well-known brand of personal skincare products, including bar soaps, body washes, and creams. Dove is owned by Unilever, a nice multinational consumer goods company.
This amazing soap is known for its moisturizing properties and gentle cleansing formula. It is a mild and nourishing soap suitable for everyday use, even for individuals with very sensitive skin.
It contains a moisturizing cream and a blend of moisturizers that help replenish and hydrate the skin. These moisturizers can prevent dryness and leave your skin feeling softer and smoother.
This soap is formulated with gentle cleansers that are less likely to strip away the skin's natural oils unlike other soaps. This makes it a popular choice for those with sensitive skin or dry skin.
It is designed to have a pH balance that is close to the skin's natural pH level. This helps maintain the skin's natural moisture barrier and minimize the risk of irritation, itchiness or inflammation.
This soap has a mild and pleasant fragrance that is not overpowering. Fragrances used in dove soaps are carefully selected to be gentle on the skin. Some doesn't even have any scent and is safe for use on the private parts as well.
Many variants of dove soaps are hypoallergenic, meaning they are less likely to cause any allergic reactions or irritate sensitive skin. Their soaps are often gentle and very moisturizing, but every individual's skin is unique, and reacts differently.
Dove offers various soap formulations to cater for different skin needs, such as moisturizing, sensitive skincare, or specific skin conditions. It's important to choose a soap variant that suits your skin type and your personal preferences.
I highly recommend dove soap for all skin types, be it sensitive skin, dry skin, oily skin, normal skin, or combination skin. This soap does not lighten the skin, so it can be used by everyone.
You can also try sanitol soap, dudu osun soap, dettol soap or tetmosol soap as an alternative.
Dove Soap Ingredients:
Water (Eau), Stearic Acid, Lauric Acid, Sodium Lauroyl Isethionate, Sodium Oleate, Sodium Isethionate, Sodium Stearate, Sodium Laurate, Sodium Chloride, Tetrasodium Etidronate, Tetrasodium EDTA, Cocamidopropyl Betaine, Fragrance, and Kaolin Titanium Dioxide.
Dove Soap Side Effects:
It doesn't have any side effects.
Dove Soap Benefits:
1: It softens the skin
2: It brightens the skin
3: It exfoliates the skin
4: It smoothens the skin
5: It unifies the skin tone
Is Dove Soap Good For Face?
Yes, it is very good for the face.
Does Dove Soap Lighten The Skin?
No, it doesn't lighten the skin.
How Good Is Dove Soap:
It is a very mild soap that will soften, smoothen, brighten, and beautify your skin complexion.
How To Use Dove Soap:
Rub the soap with water on your palm to form bubbles and apply on wet face. Massage the lather gently and rinse off. Clean your face with a towel and apply some moisturizer afterwards.
Dove Soap Price In Nigeria:
It cost N1000 in markets and cosmetics shops.
Where To Buy Bar Soaps:
You can buy the original soap online from trusted vendors either on Jumia or on Konga.
Watch & Subscribe To Our YouTube Channel: